Dr Stef Pukallus
BA (Potsdam/Paris XII), MA (Paris III), MA (Paris XII), PhD (Sheffield), SFHEA
Department of Journalism Studies
Senior Lecturer in Public Communication and Civil Development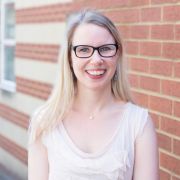 Profile

Stef is a Senior Lecturer in Public Communication and Civil Development. She is also the department's deputy director of research, leading the Journalism Studies PhD programme as well as serving as research ethics and integrity co-ordinator. She is a senior fellow of the Higher Education Academy.

Stef has founded and chairs the new Hub for the Study of Hybrid Communication in Peacebuilding, which is part of the Centre for Freedom of the Media (CFOM) at the University of Sheffield.

She is also a co-investigator in the Newton RCUK-Colciencias Research Partnership funded research project 'Improbable Dialogues: Participatory Research as a Strategy for Reconciliation' (total award £489,962, 2018-2020), together with the Department of Politics and Department of Geography at the University of Sheffield, CINEP and the Pontificia Universidad Javeriana, Colombia.
Research interests

Stef's research interests centre around the role public communication can play in the development, strengthening, rebuilding, diminishment or destruction of civil society.

Currently, Stef's work focuses on communicative peacebuilding in post-civil war settings. More specifically, she is interested in to what extent communicative activities in the factual and fictional mass media and the performative and visual arts can help to achieve peaceful co-operation among citizens in such settings. She argues that communicative activities have the potential to help achieve civil peace if they are underpinned by what she calls discursive civility and happen in safe spaces.

Previously, Stef has explored her research interests by investigating the ways in which the European Commission has publicly communicated European citizenship, attempted to communicate with its citizens and tried to stimulate the building of a civil Europe through civil initiatives in the areas of media, education and culture since 1951. She has published two research monographs and various papers in this area.

Stef, together with a colleague from Manchester University, has recently co-founded the Hub for the Study of Hybrid Communication in Peacebuilding which aims to bring academics and non-academics from across the communicative spectrum together to explore avenues for peacebuilding and collaboration.

She has acted as a consultant for the UN DDR programme and its public information and strategic communication module.
Publications

Books

Journal articles

Chapters
Teaching interests

Stef strongly believes that students should be able to develop a capacity for analytical thought which spans both practical and theoretical outlooks. To that end she deploys a variety of teaching methods ranging from lectures, dynamic seminars and one-to-one discussions to designing communication strategies and political campaigns with small groups.

She says: "My view is simple and straightforward: we should engage with students via a variety of teaching strategies and encourage and value their contribution to complex debates and intellectual discussion at all times. Above all I enjoy teaching and the opportunity it provides me with to interact with very smart undergraduates and postgraduates, both inside the 'classroom' and outside formal settings."

For her module Reporting the European Union she won the 2016-17 Teaching Excellence in Social Sciences award for Outstanding Practice in Learning and Teaching.
Teaching activities

Currently Stef is module leader for:

JNL6900 Doctoral Training in Communication and Journalism (PhD)
JNL61005 Research portfolio (MA Global Journalism)
JNL61004 Communication in Peacebuilding (MA International Public and Political Communication)

She also contributes to teaching on undergraduate and postgraduate dissertations, as well as the JNL6210 Research Methods module (MA International Public and Political Communication).
PhD supervision

Stef is currently supervising (together with Professor Jackie Harrison and Dr Simon Rushton) two White Rose DTP/ESRC Collaborative PhD studentships.

Current PhD students 

Jean-Claude Kayumba: The role of radio in post-conflict society: the example of Radio Okapi in DR Congo and its coverage of the first democratic elections of the country (2006, 2011 and 2018) - White Rose DTP/ESRC Collaborative PhD studentship 
Victoria Baskett: Community Radio Soap Opera as a Peacebuilding tool: Atunda Ayenda and the rebuilding civil society through democractic elections in Sierra Leone (White Rose DTP/ESRC Collaborative PhD studentship)
Yichun Dou: How can social media be used to prevent hate speech in a post-civil war context? A study of South Sudan

Future candidates are particularly welcome in Stef's principal research areas.