These are the areas where we're equipped to supervise PhD study. If your idea resonates with any of these themes, please get in touch.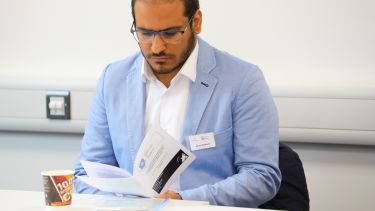 Journalism, communication and democracy
journalism and free speech protection
risk to and violation of journalistic freedoms in diverse settings
different media regulatory regimes and legal frameworks
the civil power of the factual media
media pluralism and the role of public service communication in Europe
political communication campaigns and elections
data protection and the 'right to be forgotten'
ethics and regulation of journalism
news values
the role of alternative media/journalism
---
Journalism and communication history
the history of tabloid genres and popular culture
media and gender representations and constructions in history
the history of journalism in Britain and Ireland
the history of European Union/Community communication
historical debates concerning the extent of democratic rights and their praxis
the British radical tradition and freedom of speech
---
Conflict and crisis communication
international politics and communication
media coverage of war and conflict and humanitarian crisis communication
the role of factual media in post-conflict reconstruction
news media and foreign policy formulation
propaganda and strategic communication
the role of identity and narratives in international politics
political imagining, memory and emotion
the protection of journalists
---
The digital media and communication environment
digital propaganda, influence and persuasion strategies
the role of digital technologies in humanitarian crises
EU regulation of cross-frontier audiovisual media services
data protection and the 'right to be forgotten'
media convergence
digital communicative landscapes, processes and dynamics
theoretical and conceptual work on the new media environments and contemporary power dynamics
---
Language – Communication – Journalism
discursive constructions of power relations, politics in the popular press, outsiders and the nation from historical and contemporary perspectives
communication and verbal behaviour
diverse styles and presentational contexts of journalism
stylistic aspects of journalism such as metaphor to quantifiable characteristics of written narrative
---
European and comparative media and information law – policy – communication
the role of public communication in European integration
representations of a civil Europe
the role of media and information law and policy at national and European level, and how they can exacerbate or redress existing inequalities and imbalances
the regulation of information markets, internet regulation, media law
privacy and data protection
European integration and the European public sphere
Find a PhD
Search for PhD opportunities at Sheffield and be part of our world-leading research.