Applying for a masters degree course
All applications for taught postgraduate degrees use our online process – but you might need to include extra material, depending on your circumstances and which degree you want to study. Read on to find out more.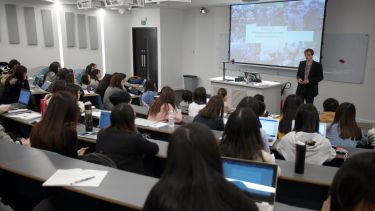 Applications are now open for 2021 entry on the following courses:
MA Broadcast Journalism
MA Global Journalism
MA International Public and Political Communication
MA Journalism
The application form
You must apply online for all our masters degrees.
There are no specific deadlines for receipt of applications, but we recommend you apply early as courses fill up quickly.
When you apply online, you may upload the supplementary information such as course transcripts, language certificates (if your first language is not English), references, writing samples or voice recording, as appropriate. If you do not include these initially, we will need to ask you to do so later, which may incur a considerable delay to the processing of your application.
Additional requirements
If you apply for MA Journalism or Broadcast Journalism and you're based in the UK or Ireland, we will usually ask you to come for an interview.
If you live elsewhere we will not normally interview you here in the department but will likely conduct an online video interview. Details of the interview will be sent to you in advance.  
These three courses have additional requirements for applications, as detailed below.
MA Journalism
Interview someone you know and write a news story based on that discussion. The story should be between 300-400 words and should have a news angle that a reader would find interesting and engaging.
You should use the style and structure you would find in the local newspaper or website from where you live. Include this story with your application.
MA Broadcast Journalism
Please download the news bulletin script below. Read the script, record a bulletin, and include this recording with your application as an mp3 or wav file.
Download the script (PDF, 181KB)
---
Staged admissions
Applications for MA Global Journalism and MA International Public and Political Communication are be assessed using the University's staged admissions process. This involves a series of application and decision deadlines through the year.
| Stage | For applications received by | We aim to return decisions by |
| --- | --- | --- |
| A | 30 November 2020 | 14 December 2020 |
| B | 14 January 2021 | 28 January 2021 |
| C | 28 February 2021 | 14 March 2021 |
| D | 14 April 2021 | 28 April 2021 |
| E | 31 May 2021 | 14 June 2021 |
| F | 14 July 2021 | 28 July 2021 |
In some cases, because of the high volume of applications we receive, we may need more time to assess your application. If this is the case, we will assess your application in the next stage. We will let you know if we intend to do this.
Study places are offered subject to availability. Given the popularity of these courses, places may not be available if you apply later in the cycle.
If we offer you a place, we will ask you to accept the offer and pay a tuition fee deposit (relevant International students only). If you do not accept the offer and pay the deposit within four weeks of the date of the offer letter, we may withdraw our offer.
---
English language requirements
If English is not your first language, please check our English language requirements before you apply.
The online application system allows you to attach files. Please use this feature to send us your IELTS or other English language certificate together with your application.
Postgraduate taught scholarships
Explore scholarships for postgraduate taught courses starting in 2022, including:
100+ scholarships worth £10,000 each for home fee-paying students
125 scholarships worth 25 per cent of the tuition fee for international students