We were equipped with all of the skills we needed to enter the industry

Jacob Waters
Broadcast Journalist, Global Radio (North West)
MA Broadcast Journalism
2022
Jacob Waters is a broadcast journalist for Global Radio. He graduated from MA Broadcast Journalism in 2022.
I'm currently working at Global as a broadcast journalist in the North-West newsroom. I report regionally for Capital, Heart, Smooth and XS Manchester whilst reporting nationally for LBC News and LBC - I also edit bulletins and read for Capital, Smooth, Heart and XS in the North West region.
Thanks to the excellent training and support we'd received from staff in the department, when an industry professional from Greatest Hits Radio visited for a day, it led to me getting freelance shifts with them. I worked on the weekends reading for GRH during term time, giving me the necessary experience to get my first full time job in radio. In June 2022 I started my role at Global, becoming the youngest newsreader on a staff contract in the company.
I feel like I learnt the most from news days - it's where we put everything we'd learned in the classroom into practice, we responded to breaking news and we got to learn from industry experts. 
There's still no feeling quite like the sense of accomplishment when the sequence show starts to play on a news day and you've put 100% into the day. Going out to celebrate with your coursemates afterwards, still riding the rush, and talking about everything that happened throughout the day is a feeling that all alumni I've spoken to have been able to relate to.
Thankfully, we were equipped with all of the skills we need to enter the industry but above all I've made lifelong friends and memories that I'll always cherish, with both my coursemates and the lecturers Lynn and Colin.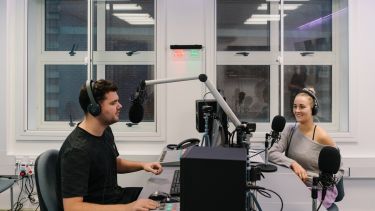 Our outstanding reputation for journalism
The Department of Journalism Studies ranks in the top five of all three of the UK's independent university league tables.
Stay connected with your University
Experience all the benefits and services that come from being a Sheffield graduate.