My confidence in building contacts and my understanding of a good news story are grounded in my time at Sheffield

Jessica Murray
Midlands correspondent, The Guardian
Journalism MA
2019
Rising star Jessica Murray received a Scott Trust bursary enabling her to study for our MA Journalism degree. After graduating in 2019 she joined The Guardian, where her stories have already led the front page.
I currently work as the Guardian's Midlands correspondent based in Birmingham – I'm the reporter responsible for monitoring and covering news stories across central England. It's a fantastic patch to cover with a diverse range of stories to get stuck into. My day-to-day tasks involve using my contacts and social media to find stories, putting together pitches, writing news stories to deadline and also generally helping to cover national issues from a Midlands perspective. 
Prior to this I worked as a general news reporter for the paper, covering a huge range of stories and doing some liveblogging, after coming through the Scott Trust Bursary scheme which helped me get onto the Sheffield Journalism MA course in the first place. 
The skills I learned at Sheffield have been invaluable in my career so far. I often turn to Mark Hanna's media law handouts when I'm covering a court case, which I wouldn't be able to do at all without my shorthand. My confidence in building contacts and my understanding of what makes a good news story are grounded in my time at Sheffield and have formed the foundation of everything I have gone on to do since. 
---
The staff have loads of industry experience and there's a really strong focus on making sure everyone gets a job at the end of the course

Jessica Murray
---
I really wanted to do an MA course that was very hands-on and practical, and that was my favourite thing about the course at Sheffield. I loved the patch portfolio project – it was the most challenging but also the most rewarding part of the course. The idea of having to hunt out original stories in an area I had never even been to before was pretty daunting at first, but it taught me the basic story-finding and contact-building techniques I use to cover my patch today. 
It also reminded me why I wanted to do journalism in the first place, because I love meeting new people and hearing their stories. And the patch portfolio project, along with the newsdays where we became a busy newsroom, gave me the opportunity to talk to lots of people from all walks of life. I remember being so surprised at how people were so friendly and would often go out of their way to help you get the story. 
There's no better way of learning how to be a journalist than just going out and doing it, and that's exactly what you'll get on the Journalism MA course. The staff have loads of industry experience and there's a really strong focus on making sure everyone gets a job at the end of the course. Plus Sheffield is a brilliant city full of interesting and friendly people (and lots of great pubs) – it's a fantastic place to start your career in journalism.
Just come prepared with lots of ideas and ready to get stuck in – and lots of notepads for shorthand practice.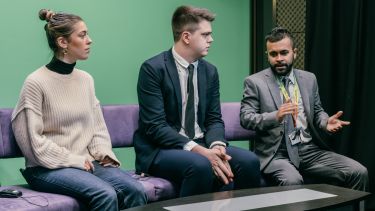 Our outstanding reputation for journalism
We're ranked as one of the top 5 universities to study journalism in the Guardian and the Complete University Guide - we're also 1st in the Russell Group for learning resources, student voice and learning opportunities according to the National Student Survey.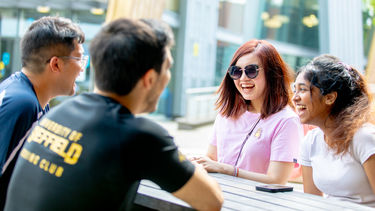 International Merit Scholarships
We offer a generous package of financial support for international students including 75 undergraduate scholarships worth £10,000 towards the annual tuition fee and 125 postgraduate taught scholarships worth £5,000 towards the tuition fee. Applications are now open for existing offer holders.