The news days gave me a chance to build up my portfolio

Maisie Marston
Journalist, BBC Radio Berkshire
MA Broadcast Journalism
2022
Maisie Marston is a Journalist at BBC Radio Berkshire. She graduated from the MA Broadcast Journalism course in 2022.
After graduating I started as a Journalist at BBC Radio Berkshire.
My role includes reporting, news reading and producing our programmes. Sheffield's news days gave me a chance to build up a portfolio of radio work and hone my audio skills, which I used to take my first steps in the industry.
Lynn's radio sessions helped me to realise I had a passion for making radio - I use all of the radio package making and writing skills I learnt at University every week! The course is hard work, but there is lots of support from your tutors and amazing industry connections too.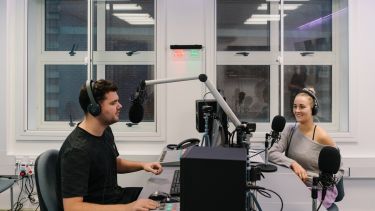 Our outstanding reputation for journalism
The Department of Journalism Studies ranks in the top five of all three of the UK's independent university league tables.
Stay connected with your University
Experience all the benefits and services that come from being a Sheffield graduate.