I find myself constantly drawing on the theories, thought-provoking discussions and debates I engaged in at this leading journalism school in the UK

Thanaselan Rajendran
Alumni
MA International Public and Political Communication
Thanaselan Rajendran completed the IPPC course in Sheffield, before moving back to Malaysia to head up a variety of businesses and social projects. He tells us a bit about how he got there.


Tell us a little bit about your current role. What is it you do day-to-day? Or what does an average week look like? What are the joys and challenges of your work?
I am at the centre of multiple business and social portfolios. Most notably, I am a director and managing partner of Endeavour – MGC, a Malaysian political research and consultancy firm, as well as the Chief Executive Officer of MyFarm Lab, a social enterprise in which we empower socio-economically disadvantaged communities through sustainable agro-technology practices and entrepreneurship.
Networking is a substantial part of my working week - I spend several hours each day connecting with partners, clients, investors, advisors and employees. Mostly, we review existing projects and explore new opportunities, study incoming data and reports, and scan the news and social media platforms for relevant information.
Constantly engaging people can be mentally taxing, so I always ensure my day begins on the ground (literally!) at MyFarm Lab's urban farm, where I get to spend some time around nature while catching up with the farm's day-to-day operations. Juggling the farm and several other portfolios is not an easy task, but there is always a thrill when my efforts produce tangible and impactful outcomes!
Is this your first role since graduating? If not, tell us a little about that. How did you move from that to where you are now?
I came to Sheffield in September 2018 after leaving a decade-long career in the
Malaysian civil service, which meant everything to me. The Covid-19 pandemic
was in its infancy when I returned to Malaysia after my graduation in January
2020. Given many people were losing jobs at the time, I wasn't motivated to go
job hunting.
Instead, I got involved in a Malaysian social enterprise founded by my friend,
which is engaged in helping marginalised communities through entrepreneurial
initiatives and digital transformation. I served those in need during the pandemic
while learning the ropes of running a business. In April 2021, I combined these
lessons and experiences to start my own social enterprise and champion a cause
so close to my heart.
Concurrently, an ongoing political turmoil in Malaysia spurred me to band with two
former colleagues and reactivate our political research firm in July 2020. We
secured high profile clients who engaged our services. The skills picked up in
Sheffield came in handy as we engaged the media to publish some of the
research works we did, including an opinion poll conducted for a southern
Malaysian state election, where the voting intention and preference we gauged
closely matched the actual outcome of the election.
How did studying MA IPPC help you get to where you are now? What skills have you taken away, what experiences did the course give you?
The MA IPPC equipped me with working knowledge of the dynamics between
public and political communication, as well as an understanding of how the media
works. Whether I'm making business pitches, producing reports for clients, or
drawing key communication strategies, I find myself constantly drawing on the
theories, thought-provoking discussions and debates I engaged in at this leading
journalism school in the UK. I developed most of the research skills I use for my
work, labouring over assignments at my favourite study spots in Endcliffe and
Mappin Street.
What were some of the highlights from your time at The University of Sheffield?
At first, I struggled to connect with Sheffield after comparing it with another city in
England I lived in during my undergraduate days. But somehow, the 'Steel City'
grew on me. The friendship I made while studying at The University of Sheffield,
bonding with strangers from different countries, cultures and languages who
eventually became buddies, is probably my best takeaway! Some of my fellow
Malaysians whom I met at the university even formed a little social club, the
Sheffield Supper Club Malaysia, as a means to continue reminiscing about
anything and everything Sheffield!
Any closing remarks - lecturers or experiences you remember well, a piece of advice that has remained invaluable to you, a particular aim you have/ something you want to achieve in your field, etc.?
A major highlight of my time at the university was the opportunity to learn from
outstanding academicians. I was always able to engage them and hold
constructive conversations on many issues relating to our subjects and other
global concerns. The intense discussions with Dr. Jared Ahmad on terrorism and
politics, analysis of campaign strategies with Bill Carmichael, and exchanges with
Dr. Dmitry Chernobrov regarding humanitarian crises were all valuable
experiences which I found myself regularly applying at work.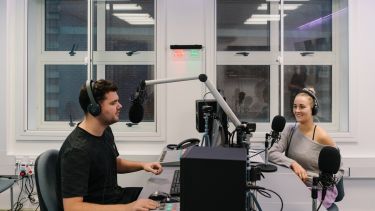 Our outstanding reputation for journalism
The Department of Journalism Studies ranks in the top five of all three of the UK's independent university league tables.
Weekly online events
Attend an online event when it suits you, all year round, as an alternative to an open day.
Every Wednesday, Sheffield Live sessions cover different aspects of University life. You can also meet your department and learn more about studying your subject.