Impact and Knowledge Exchange
Journalism, media and communication are all crucial facets of contemporary society - that's why our research has a significant impact in the community, changing lives and shaping the world we live in. Find out more below.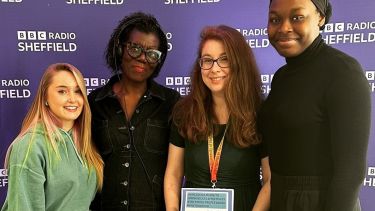 On
How the media represents periods, and those who experience them, is a subject that draws much debate in the fields of both gender and media studies. Outside of academia, though, the topic is trickier to discuss. Through her recent research, Dr Maria Tomlinson has been working closely with a group of young people to find out more about their ideas about menstruation. She said:
"In my study of the impact of the media and the period movement on young people's perceptions of menstruation, I spoke to 77 teenagers about the online Period Equality Movement to see how it has influenced their views of periods. We also discussed how the movement can better engage, educate, and empower them.
"In collaboration with Acushla Young (Menstrual Health Advocacy Specialist and North West Manager at The Girls' Network), we used these findings to create a guidance document for the period equality movement. This guidance includes a simple six-point guide to ensure that the period movement utilises social media optimally when communicating with young people about menstruation, as well as the period poverty, shame, and stigma they can experience."
Read the guidance document.
---
This monumental, three-volume research project outlines a comprehensive history of over three centuries of the press across Britain and Ireland. Ten years in the making, it comprises of over 850,000 words and 2,300 pages from more than 100 contributors, and underscores the continuing impact of Sheffield's research into journalism history. The project has been designed, curated and co-edited by Emeritus Professor Martin Conboy, alongside Professor David Finkelstein.
See all three volumes on the Edinburgh University Press website.
---
The past three decades have seen considerable critical discourse about media portrayals of Islam, particularly with regards to misleading, harmful or negative representation. Dr Jared Ahmad works closely with schools, charities, Youth Parliament groups, social workers and members of the public to gauge the wider impact of news media portrayals of Islam and terrorism.
Jared has recently run a series of focus groups on the topic of terrorism, media and trust that have been designed to educate, inform, reassure and empower young people over the threat posed by terrorist groups to society. He has pulled together a brief guide to terrorism in the British media.
Read his guide for free online.
---
Through her mixed-method research across Western Africa, Emma Heywood's work on female voice and representation within radio programming has demonstrated how radio can be utilised to improve women's rights and empowerment. She said:
"Dozens of radio stations in Niger have implemented my research-based recommendations, changing the policies and practices of radio studios, professionals, media experts, and women's associations.
"As a direct result of my research, female listeners now have access to accurate and targeted gender-related information and to newly created listening associations with saving clubs, resulting in financial empowerment and education opportunities for themselves and their daughters."
---
The research of the Centre for Freedom of the Media (CFOM) has, since its establishment in 2009, focused heavily on the safety of journalists and the issue of impunity.
In 2012, Professor Jackie Harrison and William Horsley contributed to the development of the UNPA and it's implementation strategy. CFOM would go on to become an official partner institution of UNESCO in 2015, specifically in relation to its work in its Freedom of Expression and Safety of Journalists section.

Jackie Harrison said: 
"We have recently led the Academic Consultation on occasion of the 10th Anniversary of the UN Plan of Action on Journalism Safety and the Issue of Impunity (UNPA) 2022. Following this consultation, we focused on making recommendations as to the role that academia can play in understanding the safety threats journalists face. 
"We identified a number of threats that need to be addressed within the UNPA and that academia can help with understanding these are: journalism in exile, digital threats, psychological wellbeing of journalists, weaponisation of law and the improving of monitoring."
Jackie presented the findings and recommendations from the Academic Consultation that took place at the Pre-Conference of the Safety of Journalists: Protecting Media to Protect Democracy High Level Conference in Vienna on 3 November 2022.
For more details on the consultation and recommendations, see the CFOM website.
---
Attacked by extremist groups and enduring climate disasters, Burkina Faso is dealing with a humanitarian emergency that has been worsened by Covid-19. During the height of the pandemic, rumours about vaccinations were commonplace.  Across widespread and often isolated communities in Burkina Faso, radio - which is direct, cheap and robust -  is the most trusted source of information. Our methodology, pioneered by Dr. Emma Heywood, prevents the spread of misinformation across communities.
Executives at Studio Yafa, a radio studio in Burkina Faso, stated:

"Dr Heywood's research insights have helped us identify mechanisms to ensure our programming is factual, entertaining, and provides a voice to marginalised groups such as women and IDPs (internally displaced persons).
"Coronavirus is only one small part of the problems facing IDPs... but using the recommendations from Dr Heywood we hope to provide better information to these groups in all areas of their lives beyond the pandemic."
---
Journalists face serious kinds of human rights abuse simply for trying to keep the public informed. The online space is becoming increasingly hostile with journalists facing gendered attacks, hate speech, organised mass harassment, and systematic surveillance.
To make it safer for journalists we are developing a framework to improve data collection on the full range of violations against journalists and track trends to prevent future attacks. We are also developing methodologies for tracking patterns in the escalations of violence, such as the progression of online threats to offline violence and of non-lethal attacks turning into lethal violence.
This research is funded by Free Press Unlimited and is being conducted by Professor Jackie Harrison, Dr Sara Torsner and Dr Diana Maynard (Computer Science).
---
There is a fine balance between imposing measures that seek to tackle disinformation, whilst still protecting freedom of expression.
An in-depth study, co-authored by Dr Irini Katisirea and commissioned by the European Parliament's Policy Department for Citizens' Rights and Constitutional Affairs, was released in 2021. It explores the European legal framework in order to offer recommendations to reform and regulate platforms' rights and duties relating to content moderation.
This full study is available to read online.
---
The Independent Press Standards Organisation, known as IPSO, is the largest independent regulator of newspapers and magazines in the UK. It was established in 2014 after to replace the Press Complaints Commission. 
New research on trends in newspaper complaints handling shows that corrections and clarifications by IPSO member publications have improved considerably since IPSO's launch, with the time taken to correct inaccuracies falling from a median of six days to three (2011 compared to 2016). Dr Irini Katisrea was instrumental in this research, leading as the principal investigator. 
Read the full report on the IPSO website.
---
Led by Dr Dmitry Chernobrov, this project explores how diasporas - people who have spread or been dispersed from their homeland - fight online (disseminate information, produce and contest narratives, target media and policymakers) and contribute to peace (lead digital anti-war initiatives, confront hate speech, create digital reconciliation initiatives) during armed conflict back in their homeland. Dmitry said:
"I have conducted extensive research into digital diaspora efforts during the 2020 Karabakh war, documenting actions of the internationally dispersed Armenian and Azerbaijani communities.
"This research began in October 2020, and continues - focusing on knowledge exchange with diaspora organisations and communities, policymakers, and crisis resolution NGOs."
More information can be found on the Diasporas at War website.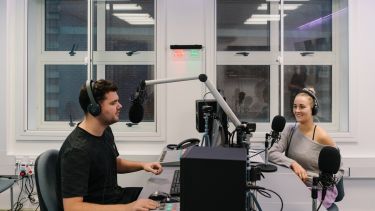 Our outstanding reputation for journalism
The Department of Journalism Studies ranks in the top five of all three of the UK's independent university league tables.
Flagship institutes
The University's four flagship institutes bring together our key strengths to tackle global issues, turning interdisciplinary and translational research into real-world solutions.