Recent and forthcoming publications by our members.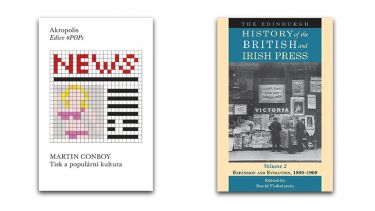 Off
News
This book is a translation published in 2019 of Professor Conboy's The Press and Popular Culture (2002). Its publisher recognises the enduring appeal of the book's central arguments and seeks to bring them to a new audience in a different era.
With the current boom in media and cultural studies, we tend to forget the 'traditional' hotspots of industry: television or internet dominance seems to drown out radio and the classic print media is shifting to the dusty shelves of 'what has passed' and 'what is passing away'. A proper understanding of the contemporary globalised, digital and fluid media world is to a large extent conditioned by an understanding of its fundamentals, the historical context from which it grows.
Martin Conboy's monograph The Press and Popular Culture is an ambitious attempt to make such a thoughtful journey to the roots. In his analysis of the popular press (illustrated weekly or daily tabloid periodicals), he builds primarily on American and British material, but in his conclusions and generalisations he presents a study more than relevant for our domestic situation.
In straddling two centuries, it follows the changes in the roles and functions of popular periodicals from the early 19th century to the present day; records the transformations they have undergone; and above all traces the influence of newspaper and magazine printing on the establishment and development of modern popular culture as such.
Complementing the original study, this volume expands the interpretation to the necessary Czech context. It will appeal to anyone interested in the history and practice of media operations, as well as literary scholars, historians and researchers from related fields.
Published with generous support from the Ministry of Culture of the Czech Republic.
---
The Edinburgh History of the British and Irish Press, Volume 2
This volume, edited by Professor David Finkelstein of Heriot-Watt University, forms part of a three-volume series edited by Finkelstein and Conboy.
Providing a comprehensive history of the British and Irish press from 1800 to 1900, reflected upon in 60 substantive chapters and focused case studies, this book sets out to capture the cross-regional and transnational dimension of press history in 19th-century Britain and Ireland. It offers unique and important reassessments of 19th-century British and Irish press and periodical media within social, cultural, technological, economic and historical contexts.
This is a unique collection of essays examining 19th-century British and Irish newspaper and periodical history during a key period of change and development. It covers an important point of expansion in periodical and press history across the four nations of Great Britain (England, Ireland, Scotland and Wales), concentrating on cross-border and transnational comparisons and contrasts in 19th-century print communication.
Designed to provide readers with a clear understanding of the current state of research in the field, in addition to an extensive introduction, it includes 40 newly commissioned chapters and case studies exploring a full range of press activity and press genres during this intense period of change.
Along with keystone chapters on the economics of the press and periodicals, production processes, readership and distribution networks, and legal frameworks under which the press operated, the book examines a wide range of areas from religious, literary, political and medical press genres to analyses of overseas and émigré press and emerging developments in children's and women's press.
---
The Cato Street Conspiracy
On 23 February 1820 a group of radicals were arrested in Cato Street off the Edgware Road in London. They were within 60 minutes of setting out to assassinate the British cabinet. Five of the conspirators were subsequently executed and another five were transported for life to Australia.
The plotters were a mixture of English, Scots and Irish tradesmen, and one was a black Jamaican. They were motivated by a desire to avenge the 'Peterloo' massacre and intended to declare a republic, which they believed would encourage popular risings in London and across Britain.
This volume of essays uses contemporary reports by Home Office spies and informers to assess the seriousness of the conspiracy. It traces the practical and intellectual origins of the plotters' willingness to use violence; describes the links between Irish and British radicals who were willing to take up arms; makes a contribution to early black history in Britain; examines the European context to events; and follows the lives and careers of those plotters exiled to Australia.
The book will be of interest to those interested in black history, as well as the related fields of intelligence history and strategic studies. It provides a significant contribution to our understanding of a particularly turbulent period of British history.
---
Letters to the Editor
Historical context is key to this recently published study, providing an account of current work on letters to the editor from a range of different national, cultural, conceptual and methodological perspectives.
Letters to the editor provide a window on the reflexive relationship between editorial and readership identities in historical and international contexts. They are a forum through which the personal and the political intersect, a space wherein the implications of contemporaneous events are worked out by citizens and public figures alike, and in which the meaning and significance of unfolding media narratives and events are interpreted and contested. They can also be used to understand the multiple and overlapping ways that particular issues recur over sometimes widely distinct periods.
This collection brings together scholars who have helped open up letters to the editor as a resource for scholarship and whose work in this book continues to provide new insights into the relationship between journalism and its publics.
Flagship institutes
The University's four flagship institutes bring together our key strengths to tackle global issues, turning interdisciplinary and translational research into real-world solutions.