A Premier League career in communication

Sam Moir
Producer/Director, Chelsea Football Club
Journalism Studies BA
2011
Sam Moir has used the media skills he developed at Sheffield in a rewarding career, first with Ministry of Sound and now as a video producer/director for Chelsea FC.
Please tell us about your career so far and the job you do now. How did your Sheffield journalism degree prepare you for it?
I'm currently a Producer/Director at Chelsea Football Club where I've been since 2018. The day-to-day ranges from overseeing edits varying from 90-second promo spots to 10-minute documentaries. I spend quite a lot of my time on concept development, which is a part of the job I really enjoy. We recently released a four-part Life on Loan documentary series and I'm really proud to have played a part in getting that developed, signed off and then made.
I was previously a producer and then senior producer at a video production agency and before that I spent two years at Ministry of Sound working in social media. I was also able to present eight radio shows on BBC Radio 1Xtra between 2013 and 2014 which was the culmination of five years' work, actually starting on Forge Radio back in 2009.
So not your typical journalism career.
But the degree helped massively with regards transferable skills. It's a really good 'life' degree. You learn to write concisely which comes in handy when I'm writing treatments, proposals or need to get an idea across succinctly. I still regularly interview people behind the camera for videos and interview skills are something drilled into you very early on in the degree.
Then through the practical work (court reporting, magazine journalism and the broadcast modules), you're meeting people from a whole range of backgrounds so that improves your confidence, communication and people skills in the real world at a really young age.
Are you surprised to be working in a field that's not actually journalism, or were you always looking to other career options?
I've always felt like I naturally progressed into working as a video producer. The degree provided a really solid foundation in the media landscape, where I've then been able to use a host of skills in a mixture of jobs.
Music broadcasting was a big focus during university and from that I found myself working at Ministry of Sound, where that role then naturally progressed towards video production as the media industry itself pivoted towards video.
Video is now a crucial part in a lot of publications and brands' strategies today and while, sadly, some areas of journalism have seen a decline in career opportunities, companies are constantly on the lookout for talented up-and-coming producers, shooters and editors. You start to learn all of the key skills needed in those careers on the journalism degree at Sheffield.
---
Through the practical work – court reporting, magazine journalism and the broadcast modules – you're meeting people from a whole range of backgrounds. So that improves your confidence, communication and people skills in the real world at a really young age

Sam Moir

BA Journalism Studies
---
What was the best thing about your degree at Sheffield? 
Court reporting immediately comes to mind. Outside of any previous work experience, it's the first time you're left to your own devices to go out and get real-life court stories, some of which can be quite morbid.
But the single best thing would be the variety within it. It's a great course for someone who's keen to get a solid understanding of print, radio, TV, online and magazines and then go out and actually practise it during the degree. It's set up so that you can focus more time on your preferred specialism towards the end of the degree.
The academic side is obviously important but you can't beat physically going out and getting experience. The degree and also the University's Forge Media set-up both offer great opportunities to get hands-on experience while studying.
What advice would you give to someone who's now considering applying for a place on your degree course?
My advice to applicants would be to really get stuck into the modules as it's the best way to find out what type of journalism or even media (production, PR) you may want to specialise in after graduation. There's a lot of crossover skills within the degree.
Try and get as much experience outside of the degree as possible while studying. Getting those eight radio shows on 1Xtra was a direct result of making use of the free time afforded to learn how to build radio shows, write radio scripts, arrange interviews and shadow radio presenters.
Learn to start shouting about yourself and, more importantly, your good work early on. It's a very competitive industry so you will need to make yourself heard.
And, of course, have fun. It's a great degree, a reputable university and a fantastic city to spend three years of your life in.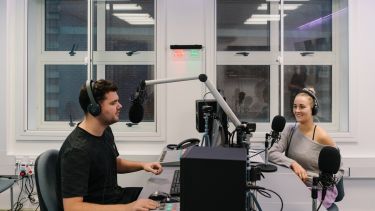 Our outstanding reputation for journalism
The Department of Journalism Studies ranks in the top five of all three of the UK's independent university league tables.
A world-class university – a unique student experience
Sheffield is a research university with a global reputation for excellence. We're a member of the Russell Group: one of the 24 leading UK universities for research and teaching.