Collaborating with children and young people to re-imagine treescapes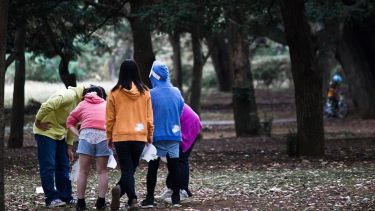 Voices of the Future: Collaborating with children and young people to re-imagine Treescapes brings together local, regional and national organisations, including primary and secondary schools, Natural England and the Community Forests, to explore how young people can participate in changing the present and imagining the future of treescapes.
Dr Clare Rishbeth, from the Department of Landscape Architecture says: "in the last few years there's been an encouraging growth of projects and campaigns for young people – often led by young people – which support diverse access to nature, protest environment inequalities, climate action and planning and design decision making."
"These are often more diverse and radically creative than established environmental organisations. The University of Sheffield's role within Voices of the Future will be to learn from these real-world examples – how do young people already shape UK treescapes and how can this be expanded in influence; a 'new normal' of an inclusive and multi-ethnic environmental sector?"
Led by Professor Kate Pahl from Manchester Metropolitan University, Voices of the Future aims to inform educational policies, teacher education, urban planning and treescapes design, with new approaches to creating and caring for resilient treescapes.
Project partners include the universities of Aberdeen, Birmingham, Cambridge, Cumbria, Middlesex along with the Community Forests, (Manchester City of Trees and Mersey Forest), Natural England, the Chartered College of Teachers, Early Education Outdoors, The Children's Society, Aberdeen City Council, Sheffield and Rotherham Wildlife Trust and the Station House Media Unit in Aberdeen.
Announcement of the first set of Future of UK Treescapes projects