Conservation pioneer and subject of bestselling book Wilding to give public lecture in Sheffield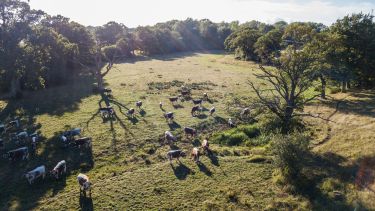 The story of the transformation of Knepp Estate is the subject of the bestselling book Wilding: The return of nature to a British farm, published in 2018 by Charlie's wife, the journalist Isabella Tree.
Together, Charlie and Isabella have successfully converted the West Sussex estate – which Charlie inherited in 1987 – from unprofitable farm to thriving habitat over a 17-year period.
The pioneering rewilding experiment has seen the return of numerous declining species, including lesser spotted woodpeckers and long-eared owls to the estate, which is now also home to 2% of the UK's breeding population of nightingales.
---
Re-wilding is an important lens for landscape architects, urban planners and architects to see the urban world anew.

Professor James Hitchmough

Professor of Landscape Architecture
---
Professor James Hitchmough, who is organising the talk said: "Charlie Burrell and Isabella Tree's rewilding stewardship of Knepp Estate in West Sussex has been one of the few biodiversity good news stories to come out of the agricultural landscape of Britain in the past two decades.
"This story is eloquently told in Isabella's much praised book Wilding."
---
'Wilding' tells the story of rewilding Knepp Estate
"Given Britain's imminent withdrawal from the EU, and the end of CAP (Common Agricultural Policy) the contribution of the rewilding movement to helping frame a new climate change and biodiversity focused agricultural policy is currently of great national interest."
James added: "Rewilding is not however simply about how we think about and manage large scale landscapes.
"It is also a philosophy about being more nuanced about how we interact with nature and natural processes in general, at all scales, from the national park to the urban garden.
"As such, re-wilding is an important lens for landscape architects, urban planners and architects to see the urban world anew."
Charlie chaired Rewilding Britain in its start up phase and now is vice-chair, he chairs the Beaver Advisory Committee for England and the Romanian rewilding project, Foundation Conservation Carpathia.
He is also a board member of Arcadia and is on the oversight committee of the Endangered Landscape Programme.
Due to the popularity of Wilding and interest in the Knepp project, Charlie's lecture to Department of Landscape Architecture students will be open to the general public.
Re-wilding the Landscape: a talk by Charlie Burrell will take place on Tuesday 10 March at 5.45pm in Diamond Building LT4.
Update 5 February: This talk has sold out. If you wish to be added to the waiting list please email j.richardson@sheffield.ac.uk
---
Watch the recording of Re-wilding the Landscape below.
A global reputation
Sheffield is a research university with a global reputation for excellence. We're a member of the Russell Group: one of the 24 leading UK universities for research and teaching.