Green pollution barrier installed at infant school thanks to PhD research and city-wide collaboration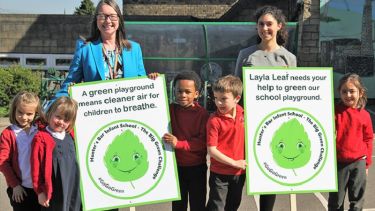 The BREATHE barrier, which is made up of around £12,000 worth of herbaceous plants, shrubs, trees and climbers and is the result of research by Department of Landscape Architecture PhD student Maria del Carmen Redondo Bermudez, was unveiled today (Monday 4th November) at a special ceremony in the school's playground.
The barrier, which wraps around the playground at the busy intersection of Sharrow Vale and Junction Road, has been designed to filter air pollution from passing traffic and improve the wellbeing of pupils and the environment in which they play.
---
We were incredibly lucky to partner with the University of Sheffield on the #GoGoGreen campaign. Their research study has caught the imagination of our whole school community.

Catherine Carr

Head Teacher, Hunter's Bar Infant School
---
PhD student Maria will take daily measurements of Nitrogen Dioxide (NO2) and Particulate Matter (PM10 and PM2.5) from the playground to understand the impact the plant barrier has on critical pollutants.
The full study will be published in 2021.
Addressing an audience of air quality and health policy makers, researchers, businesses, school and community champions, Maria said: "It's a great feeling to see the fruits of months of hard collaborative work, planning and action. The barrier looks beautiful and I am eager to follow the changes in air quality to use science to incorporate plants to the urban environment."
Public fundraising
The innovative barrier is a culmination of eight months public fundraising and corporate engagement, involving the University of Sheffield, Hunter's Bar Infant School and more than 50 organisations across the city.
Having discovered that monthly averages of Nitrogen Dioxide levels in their playground had exceeded World Health Organisation guidelines twice in two years, the school approached the University in September 2018 to create a solution.
The BREATHE project – funded by the Grantham Centre for Sustainable Futures – was formed, bringing together experts in plant science, air quality, engineering and social science from across the University.
The #GoGoGreen fundraising campaign was launched in March 2019 and succeeded in raising more than £20,000 needed for materials, along with essential services and tools.
Hunter's Bar Infant School Head Teacher, Catherine Carr, said: "We were incredibly lucky to partner with the University of Sheffield on the #GoGoGreen campaign. Their research study has caught the imagination of our whole school community."
"Not only has this helped us to fundraise for the plants and materials we needed to build our living green pollution barrier, it has given us a platform from which to run a series of educational initiatives, which look beyond mitigating against air pollution, and help us focus on what we can all do to reduce emissions."
Planting design
Maria worked with Landscape Architects Urban Wilderness to select a bespoke mix of plants for the barrier, tailored to the playground site.
The design takes into account the specific wind and rain conditions in the playground, whilst ensuring the pupils still have space to play freely.
Installation
Maria said: "The pollution barrier consists of three layers. Fifty ivy fence panels act as the first line of defence and aim to reduce the amount of NO2 gases reaching the playground.
"The middle layer consists of conifers and bamboo, selected because they can catch particulates on their leaves and bark. The third and innermost layer has been designed using shrubs and herbaceous plants, which are able to catch particulates, whilst also looking attractive, benefitting pollinators and enhancing human well-being."
Groundworks, essential surveys and structural drawings for the barrier were carried out in Summer 2019 by engineering firm Arup and contractors Henry Boot, who were introduced to the project thanks to the involvement of Sheffield Business Together.
The barrier was planted during half term with the help of staff and students from Department of Landscape Architecture, parents, pupils and staff from Hunter's Bar Infant School and volunteers including local councilors from the Green Party and employees of Henry Boot.
The 240 plants and fifty ivy fences needed for the barrier were supplied by Johnsons of Whixley and Mobaline.
Toolkit
It is hoped that research findings can be used to create an accessible toolkit, making it easier for other inner-city schools facing air pollution challenges to roll out similar schemes.
Catherine Carr added: '"When we first started looking at playground air quality, we didn't find it easy. It was hard to navigate the existing research studies, to know how and what to monitor and, importantly, to know which of the solutions in the marketplace would be most effective as well as affordable."
"We really hope that we can use all of our learning and the relationships we have made along the way, to make the process a little easier for other schools who might come up against some of the barriers we experienced when we started out on this journey."
The BREATHE project is currently working with the Escuela Angela Medone de Caviglia in Buenos Aires, Argentina to install a similar barrier adapted to the local context and climate.
Parent Governor at Hunter's Bar Infant School, Rowan Hall said: "The #GoGoGreen campaign has captured the imagination of the whole school community. The children and their families have been working alongside Maria and school staff to collect air pollution samples and plant the barrier that we hope will improve the air we breathe for years to come."
"The outcome is beyond anything we could have hoped for. We now have a safer, greener playground; one that supports outdoor learning, the ongoing educational programmes about sustainable travel and sparks conversations about the health, happiness and wellbeing benefits of green spaces. We couldn't be more thrilled!"
Read more about the science behind the living pollution barrier
A global reputation
Sheffield is a research university with a global reputation for excellence. We're a member of the Russell Group: one of the 24 leading UK universities for research and teaching.