Landscape experts open gardens for charity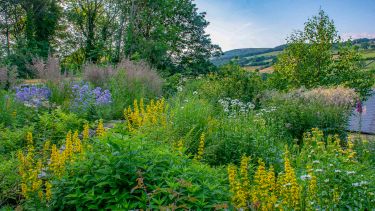 Senior Lecturer Andy Clayden, Professor Nigel Dunnett and Professor James Hitchmough, who are at the forefront of current ideas in naturalistic planting design, creating sustainable landscapes and gardening for a changing climate opened their gardens on Sunday 14 July to support the national charity.
Andy, Nigel and James each use their plots to experiment with ideas that inform their teaching, research and practice.
---
"Something about the beauty of your garden touched us in a way that less naturalistic gardens have not, and what happened is that it has changed everything."

Visitor feedback
---
The National Garden Scheme gives visitors unique access to over 3500 exceptional private gardens in England and Wales and has raised a total of £55 million for nursing and health charities.
Andy's garden at 68 Tasker Road acts as a test-bed for his work into how contemporary landscape design can contribute to delivering more robust and resilient cities, which are able to respond to a changing climate.
Nigel and James' gardens – Bramblewood Cottage, Bradfield and 19 Fir Street – bear the hallmarks of their work as the originators of the distinctive naturalistic planting style, known around the world as the 'Sheffield School' of planting design.
Following the opening, all three reported a successful day, full of hundreds of enthusiastic and knowledgeable visitors.
In a testament to the powerful effect that visiting a garden can have, Nigel received moving feedback from a visitor via e-mail: "My husband and I visited your garden yesterday and I really wanted to let you know what a profound effect it had on me… it felt like an epiphany.
"I am the gardener in our family and my husband is very much not – but both of us felt something so strong yesterday, we were bowled over."
"Something about the beauty of your garden touched us in a way that less naturalistic gardens have not, and what happened is that it has changed everything."
"Now my outlook has become, overnight, 'what greater gift could I give my children and grandchildren than the magic of a garden'. How else, but through my garden, could I communicate more powerfully that life is for living, that being alive is fabulous!"
---
The Gardens
Bramblewood Cottage
Professor Nigel Dunnett
Nigel's garden is located in an old quarry on the edge of the village of Low Bradfield. When Nigel and his wife Marta moved in 8 years ago, the garden had been unmanaged.
The garden is steeply sloping and much of the first few years was spent making the garden accessible. The garden is 1 acre in area and about a quarter of this is Oak woodland, with a natural layer of bluebells beneath.
The woodland had become invaded by weedy Sycamore, Acer pseudoplatanus, and this has been removed gradually to return the woodland to its native oak character.
The removed trees were cut up into log sections, and these became the basis of the distinctive 'wave-form' log-walls that provide a permanent structure within the naturalistic plantings (as well as being great habitat features in themselves).
The plantings in the garden have a focus on colour associations and allow Nigel to be more 'hands-on' in terms of garden maintenance, as opposed to his 'low-input, high-impact public plantings.
The front garden is smaller in scale and Nigel has used this as a demonstration for fitting ecological ideas into a small domestic space.
Rain gardens and bioswales line the main path to the house, there is a wildlife pond and a 'mini-meadow'.
The whole garden is an example of the current 'rewinding gardens' movement: removing areas of intensive maintenance, allowing natural processes to take over, and mixing native species and natural colonisers with deliberately introduced garden plants.
Nigel's Garden is profiled in the August 2019 edition of Gardens Illustrated Magazine.
---
68 Tasker Road
Andy Clayden
The garden at 68 Tasker Road has taken shape over 20 years, responding to the changing needs of a growing family.
Its features include reclaimed materials – dry stone walls and a timber framed building – and green roofs, ponds and soakaways, which function as means of recycling water.
For an end terrace it is an unusual plot. It was extended in 1935 by the then owner – a Mr Samuel Billingham (table blade grinder) – who seized the opportunity to purchase at a cost of fifty one pounds twelve shillings and six pence an additional 413 square yards from John, Joseph and George Holme, market gardeners on land behind the nearby Ball Pub in Crookes.
It then served at a cut flower plot in the late 1940s and 50s for the owners Mr and Mrs Hall, who supplemented the family income by growing cut flowers, which they sold to people passing along the track at the end of the garden on their way to Crookes Cemetery.
Today the trees and hedges have matured and planted borders are no longer vulnerable to a stray football, although the annual bonfire party still takes its toll.
19 Fir Street
Professor James Hitchmough
James' garden, 19 Fir Street, is located in the bustling suburb of Walkley.
The urban terrace garden is filled with layers of planting, which add colour and interest throughout the year.
Rarely used tender planting includes Themeda triandra, Phlomis lychnitis, Penstemon cardinals subsp. regalis, Eriogonum allenii, Helichrysum pallidum and the fabulously rare Barleria monticola.
James said: "I wanted my garden to house a different range of plants than you typically see in northern England gardens.
"Since being a child I have always grown lots of wild species from seed, so this and my research interests in South African species sort of took care of it looking too familiar. My garden is an iterative creation, I can be firm myself when designing for clients but at home this is not so easy, so it doesn't always work out the way I thought it would!"
A world top-100 university
We're a world top-100 university renowned for the excellence, impact and distinctiveness of our research-led learning and teaching.