Landscape scholarship success for Pranabanti and Atindriya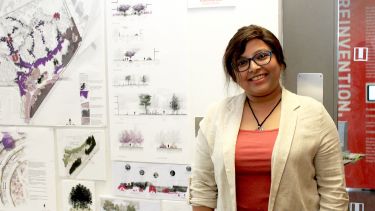 Pranabanti Karmakar and Atindriya Shome, started the two-year MA Landscape Architecture course in September, thanks to their successful applications.
The awards, which are awarded to the very best Indian postgraduate applicants, are equivalent to 50% of the total course fee and cover both years of study.
The Indian scholarship programme was established following a departmental visit to universities in Delhi, Ahmedabad, Pune and Bangaluru in January 2016.
The trip was designed to strengthen relationships with these institutions, and allow for a comparative exploration of contemporary issues in Landscape Architecture.
Following on from the successful uptake in the first year of the scheme, the Indian Landscape scholarship programme will be running again for 2018 entry.
Pranabanti Karmakar explains what the scholarship means to her
Why did you decide to apply to the University of Sheffield to study Landscape Architecture?
The University of Sheffield is the Alma mater of one of the pioneer Landscape Architects in India, Professor Mohammad Shaheer, so the institution holds a special place in my heart and it was my first choice for study abroad.
How did you feel when you found out your scholarship application was successful?
I was ecstatic!
What have you enjoyed about your course so far?
First and foremost I love the city, I think there cannot be a better place to study Landscape than Sheffield. Be it the historical Landscape, urban scape or the woodlands, the city has it all in terms of variety for a student of Landscape to explore.
40% classes are conducted outdoors which is so important for a Landscape student. The Cultural Studies and plant walk has been my favorite so far.
The effort the staff give to us through studio work and lectures is exemplary. It does make you feel very special and inspires you to do good work.
Thirdly the variety and quality of fellow students; there is such a diversity in the batch, people from different ethnicities, professions and skill sets. It helps you learn a lot and explore your own skill set and of course add to it.
What do you hope to do in the future?
Right now I'm concentrating on grasping the whirlpool of knowledge. There is a good chance that I might pursue further research, but the plan might change in future.
What advice would you give to other students from India who were considering applying to Sheffield?
For students who are really passionate about natural environments and their preservation as well as design, and want to learn as much as possible about it in two years - this is the place for you.
Weekly online events
Attend an online event when it suits you, all year round, as an alternative to an open day.
Every Wednesday, Sheffield Live sessions cover different aspects of University life. You can also meet your department and learn more about studying your subject.