'Naturalistic Planting Design' scoops top European book prize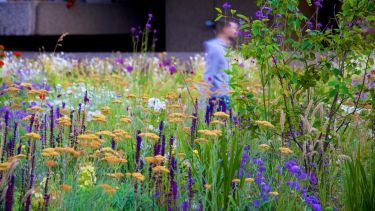 The award, which was presented at an online awards ceremony on 12 March, was given for the German language translation of Nigel's book, Naturalisitiche Gartengestaltung, published by Ulmer in 2020.
The European Garden Book Award is the premium award for European garden books, honouring exceptional literary achievements in the field of horticulture and garden culture.
Nigel said: "It feels very special to be given this award, in this international and European context.  Most of the theory and ideas around naturalistic planting design originated in Europe: Germany, Scandinavia, The Netherlands as well as the UK, and these ideas have since travelled around the world, inspiring countless numbers of people."
"At Sheffield, we have put our own slant and perspective on them.  So, it is a particular honour to be given this first prize at a European level. After the past year, the need to look at gardens in a more natural, sustainable and ecological way has never been more important. And not just gardens: the environments and landscapes of our towns and cities too."
---
I hope the book encourages people to look afresh at the potential of spaces around them, and gives the tools and inspiration to make a change, and to make a difference.

Professor Nigel Dunnett
---
Over 120 books were submitted by publishers for consideration, with the judges declaring Naturalistic Planting Design a 'well deserved first place.'
The judging panel said: "Nigel Dunnett's gardens and landscapes have lifted the spirits of city dwellers for decades. They are achingly beautiful, motivating places that resonate with the energy of the natural world and urge us to take a moment of consideration. But how does he achieve these plantings with their successional waves of colourful perennials, elegant grasses, and pollinators at work with so few demands on irrigation and other natural resources?"
"In this winning book of 2021, he shares his inspiration, philosophy and working methods. He relates his own special style of naturalistic planting in historical context and teaches us how to read wild plant communities and to better understand how they behave in garden situations."
"Nigel shares his plant selection, which includes trees and shrubs as well as perennial and annual meadow plants and implementation techniques in a neat planting design toolkit. Overall, it is an extremely good book and a well deserved first place."
Naturalistic Planting Design is also translated into French and Dutch editions, with a forth-coming Chinese version.