Sheffield students showcase design training and talent at RHS Tatton Park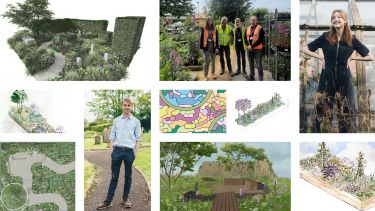 Ollie Pike, MLA Landscape Architecture and Camellia Hayes, MA Landscape Architecture make up two of three three Young Designers at the RHS Flower Show Tatton Park which opens today (Wednesday 19 July); while Melissa Gun, Elena Jarmalaviciute, Pinru Chen, Nea Weston, Helena Bills and Sarah Collings compete in the Long Border Competition.
The only RHS show held in the north of England, Tatton Park hosts around 80,000 visitors every year and acts as a springboard for young design talent.
MLA Landscape Architecture student Ollie Pike is making his show garden debut with the Psalm 27 Garden, sponsored by the Bible Society.
Inspired by Psalm 27 and native grassland meadows often found in churchyards, it aims to evoke ideas of protection, reflection and guidance.
Ollie returned to the Department of Landscape Architecture in September 2022 to complete his final year, having spent two years in practice at Harris Bugg Studio, where he worked on the planting for the Gold Medal winning M&G Garden at the RHS Chelsea Flower Show 2021.
Camellia Hayes, who is in her second year of MA Landscape Architecture, won a Silver-Gilt medal at Tatton Park in 2022 for her long border design and returns in 2023 for a step up to the prestigious Young Designer category.
Her design Seeking Resilience, sponsored by Barratt Developments, represents a small, inner-city pocket park and is a place for both people and nature to come in and seek respite.
She was inspired by her mum's strength during recent cancer treatment and wanted to create a space which nurtures resilient people and resilient planting.
We spoke to Camellia and Ollie about what they are most looking forward to, as well as how their time studying in the Department of Landscape Architecture has helped prepare them for their Tatton Park experience.
Why did you decide to apply to RHS Tatton Park Flower Show Young Designer Competition?

Ollie: "I strongly believe in the power that gardens can have in getting across important and sometimes difficult messages, something I have experience of having worked on the Gold Medal winning RHS Chelsea M&G Garden by Harris Bugg Studio in 2021.

I wanted to create a garden with a purpose and I am delighted to be working with Bible Society to create the Psalm 27 Garden. I want people to take away a real sense of hope from the garden.

The psalm evokes ideas of protection, reflection, and guidance, which fused with ideas of being able to engage with nature, in places such as our local churchyards, enables us to contemplate personal troubles and restore ourselves."

Camellia: "I took part in Tatton Park's Greener Border category last year, where I experienced the electric atmosphere at the show for the first time. Having my design vision realised in person was incredibly rewarding, so I was very keen to take part in the show again."

How did you feel when you found out your application had been successful?

Camellia: "I was over the moon when I found out I was one of the Young Designer finalists. It's a life changing experience and I just feel incredibly lucky that the RHS and my sponsors believe in me."

Ollie: "I was very excited when I found out I was going to feature a show garden at Tatton Park and I cannot wait to share it with audiences and listen to people's responses."

How has what you have learned on your course helped you in the design and planning for Tatton?

Ollie: "I feel well equipped to be creating this garden. The key lesson that the Department of Landscape Architecture has taught me is to keep interrogating my design and referring to the design process to ensure every detail has a purpose. Not being afraid to draw and draw again until each detail is right."

Camellia: "MA Landscape Architecture has encouraged me to embrace blue-sky thinking and draw more freely. This has enabled me to approach design in a new way, which is not bounded by conventional garden design rules. I have also learnt about sustainable planting design and management and how to incorporate this practice into designs."

What has been the biggest challenge so far?

Camellia: "Definitely juggling my master's degree, flower show preparation and life in general! I didn't quite anticipate how much work happened behind the scenes of show gardens, from liaising with sponsors to regularly visiting nurseries. Fortunately, I have a very supportive team around me who have stepped in during the pinch points."

Ollie: "One of the things I am most nervous about is the planting, as there are so many variables that can change all the way up-to the show week. However, I have a talented team with me — including Butler Landscapes and the amazing brand new nursery Cliff Bank Nursery — and lots of support to make sure everything will be looking its best for the show."

Have you received any help from the Department of Landscape Architecture to assist in your design?

Ollie: "The department has generously supported the garden with a £1000 grant, which will help with the logistics that come with creating a show garden. I would also like to thank all the tutors who have helped along the way."

Camellia: "Alongside the financial support, different tutors from the Department of Landscape Architecture have assisted me along the way. In particular, I worked with David Buck to improve my construction drawings and minimise the use of concrete. As show gardens are temporary, it has been interesting to learn how my structures can be built without concrete footings."

What are you most looking forward to in terms of seeing your design realised?

Camellia: "I've really enjoyed going to different yards to select my reclaimed materials. I've found the garden design industry incredibly friendly, so it's been a joy to travel around England meeting different business owners and learning about their sustainable products.

I've got so much out of this process and I'm really looking forward to the build itself and working alongside my contractors Mustard Seed Gardens and planting team to bring my visual to life."

Ollie: "I can't wait to share the garden with everyone. I am really excited to talk to people about their responses to both the garden and the Psalm and I hope that people will leave feeling much more hopeful for things to come."
RHS Tatton Park Flower Show will run 19 - 23 July. Tickets on sale now.
---
Long Border Competition
Designers in the Long Border category create a 2 x 7m border, inspired by a sensory theme.
Plants that Sense Us
Sarah Collings
MA Landscape Architecture
Sarah's design explores the ingenious ways plants in which plants respond to external stimuli - like light, sound, temperature and touch - to protect themselves from predators and increase their chances of reproducing. Planting is inspired by Darwin's Living Laboratory, while hard materials reflect the scientific equipment at Down House.
Plants include:
Oenothera - Evening Primrose - reacts to the sound vibrations of pollinators by sweetening its nectar
Hardy geraniums - respond to cold temperatures by increasing sugars in their cells, to prevent freezing
Ecballium elaterium - squirting cucumbers - react to touch by ejecting seeds when ripe
Grow Together
Helena Bills and Nea Weston
MLA Landscape Architecture, Year-In-Practice
Helena and Nea's border celebrates edible plant species and the value of companion planting; a practice that involves growing different species side-by-side for their mutual benefit.
Companion planting has be shown to naturally aid pest control, improve pollination and increase productivity, by maximising use of space.
Helena and Nea said: "having both recently read George Monbiot's book Regenesis, we were inspired to create a garden that highlighted the importance of sustainable food production.
Bubbling Box
Melissa Gun, Elena Jarmalaviciute, Pinru Chen
BSC Landscape Architecture, third years
Colourful perennials and shrubs, chosen for their mound-forming habit or globular flowers, fill this border. Edibles offer leaves to be picked and scents to be inhaled, while tactile foliage brings a further sensory element.
The designers said: "we want to inspire visitors to replicate the planting in their own gardens- sharing the important message that planting shouldn't just to be to look at, but also to feel, smell or even taste. We want it to be as appealing to the senses as possible, whilst maintaining ecological importance, particularly for pollinators."