Student Travel Blog: Maxine Cole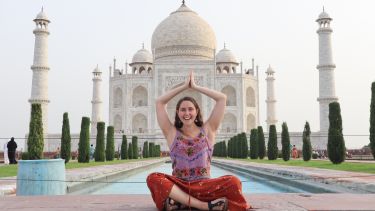 This summer, 2nd year BSc Landscape Architecture student Maxine Cole spent six weeks studying at Ashoka University in Delhi, thanks to the University of Sheffield's Global Summer Experience scholarship.
Maxine attended the Summer School in Environmental Science and was able to explore the landscapes of the city and neighbouring regions during weekends.
She tells us about her experience below.
How did you get involved in the Indian Summer School?
I applied for a Global Scholarship through the university website. When the application was accepted I was given a great list of potential universities and courses from around the world. India was my top choice for two main reasons; one being the course - Environmental Studies - is something in very passionate about. And two, its India!
Tell us a bit about your experience.
I studied during the week, but on the weekends my friends and I would go on trips to nearby regions including the Taj Mahal, Jaipur and the Himalayas!
How will what you learned at the summer school help with your studies for the rest of the year?
I am much more environmentally aware with what I eat, what I buy and people's rights to a healthy environment. I will take this environmental mindset and use it when designing my landscapes, especially the fact that everyone deserves the right to green space and to living in a clean, healthy, sustainable environment.
Is there one stand out memory from your experience that will stay with you?
There are a few! But if I had to chose it would have to be the Taj Mahal. A typical answer, but it's true, it's one of the seven wonders of the world for good reason! Coming through the grand gateway and catching that first glimpse of the pristine white marble structure, in the light of the rising sun... it was pretty magical.
Would you recommend a summer school to others and if so, why?
100% yes! At times it's hard. You see a lot of poverty, pollution and filth, it isn't all rose tinted. But the people I studied with were so kind and friendly.
India is such a diverse and busy bustling country. Going from Delhi to Leh in the Himalayas was like going to two different worlds.
People dress in such wonderful colours, the food is so good, there are so many religions and languages, it's truly the definition of diverse.
I would recommend to anyone to do a summer school, you can really settle into a place over a six-week period and it begins to feel like home.
A world top-100 university
We're a world top-100 university renowned for the excellence, impact and distinctiveness of our research-led learning and teaching.