Students create borders to delight the senses at RHS Chatsworth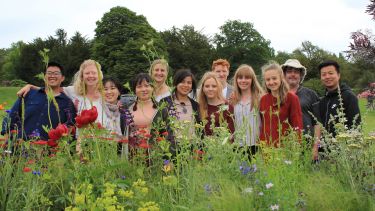 The students – from both undergraduate and postgraduate courses – have designed their 7m x 1.8m borders around the theme of the five senses.
Working either individually, in pairs or groups of three, the students have created nine of the 16 borders at the 2019 show.
---
I am thrilled to have the RHS Chatsworth Flower Show on our doorstep, as it is a wonderful opportunity for the students to bring a concept to life.

Dr Sally O'Hallaran

University Teacher​​​​
---
With their costs covered by the Department of Landscape Architecture, the students have designed and planned their exhibits – alongside their university work – over the past six months and have had four days in which to build and plant up.
The group were coordinated by Dr. Sally O' Halloran, a University teacher who specialises in planting design, who said: "I am thrilled to have the RHS Chatsworth Flower Show on our doorstep, as it is a wonderful opportunity for the students to bring a concept to life and it adds something different to their portfolios if they want to specialise in planting design in the future."
"What is great is that this year's entrants have paired up with students from different year groups and different countries including Norway, America, India China, Japan, and Indonesia. Not only that, there has been a whole group of people behind the scenes growing on plants for and with them, designing sculptures, and keeping them calm while they juggle end of year assessments."
"I also want thank the five students who entered the Long Border Competition last year - Russell, Alistair, Bart, Liwen and Amber. They led the way and inspired this year's 17 to enter!"
The Long Border Competition at RHS Chatsworth Flower Show provides the opportunity for plant enthusiasts from all backgrounds – including garden design professionals – to experience the design, planning and build of a horticultural exhibit in a show environment.
Judging took place on Tuesday afternoon and the medals will be revealed early on Wednesday morning.
---
Update
With the results now in, the Department of Landscape Architecture is delighted to announce that every border was awarded an RHS medal with the students collecting two gold, four silver-gilt, two silvers and one bronze medal between them. Congratulations to all on their outstanding achievement.
The 2019 Long Border Competition entries from the Department of Landscape Architecture are:
A Flowering Concert
Fumika Yoshimoto and Jingyi Jiang - MA Landscape Architecture and MA Landscape Studies
A Flowering Concert has been inspired by a classical music concert, with the border visualising the sound of music. Key plants have been selected to represent musical instruments.
Alliums reflect musical notes with their round flower heads, while ornamental grasses represent string instruments such as violins.
Fumika and Jingyi's design sees ornamental grasses lead the piece as the main melody, with other plants scattered in the border representing parts of a song that fade and develop throughout a piece. A small structure of a conductor stands watch over the border, directing the whole orchestra.
A Sense of Place
Katie Wright, Cindy To, Carrie Bayles - BA Landscape Architecture, MA Landscape Architecture and BSc Landscape Architecture
A Sense of Place has been based on the 250 schoolgirls who boarded at Chatsworth House for seven years during World War II.
The planting reflects the journey these girls would have taken, showing feelings of uncertainty at the beginning, leading onto maturity after their experience at Chatsworth.
Seven Taxus baccata hedges give the border a structural quality and represent the seven years that the girls lived there. Hidden within the scene is a wire sculpture of a young female, representing how the girls may have interacted with the landscape.
Fade to Grey
Mark Malaczynski - MA Landscape Architecture
Fade to Grey by Mark Malaczynski symbolises the gradual loss of sensory perception over time. The Long Border has been inspired by Mark's personal experience of helping his mother as she ages.
Over time, everyday life has become more challenging for Mark's mother as she struggles with a decline in hearing, eyesight and her senses of smell and taste and touch.
The planting in the border moves from the boldest, most vibrant colours of the spectrum, through pastel shades into a monochromatic, grey-scale scheme to convey a powerful message about the ageing human condition.
Hidden Depth
Elliot Zhu and Lizzie Liu - MA Landscape Architecture
Elliot and Lizzie are exploring a freshwater aquarium planting scheme in their border, Hidden Depth using plants that mimic aquatic species. Encased within a tank-like structure, the border will give a glimpse into an alien realm.
Inspiring Childhood Adventures
Jazz Ashworth - MA Landscape Architecture
Jazz is keen to encourage children to go outdoors in her Long Border, Inspiring Childhood Adventures. Inspired by fond memories of crawling through gorse bushes and playing with plants as a youngster, Jazz's border is all about encouraging exploration and sensory development in children. Resilient, low-maintenance species will be planted in the border, providing plenty of take-home ideas for a family garden, whatever your space.
Peaked Senses
Pranabanti Karmakar and Atindriya Shome - MA Landscape Architecture
Peaked Senses is inspired by Pranabanti and Atindriya's first experience of the moors of the Peak District and supports the 'Moors for the Future Partnership', an initiative towards creating awareness and conserving the moorland.
The design showcases how rhythm, pattern and repetition of native moorland species like heather, molinia and buckler fern can create a canvas of soothing colour and airy tonality for a resilient and low-maintenance garden. The design aims to inspire an appreciation for unique native habitats like the moors, with the species curated to recreate the moors of the Peak District.
Return of the Senses
Emily Hull and Alfajri Rahmatullah - MA Landscape Architecture and MA Landscape Studies
Return of the Senses is inspired by campaigns like RHS Greening Grey Britain that aim to bring nature back to urban landscapes.
The border, designed by Alfajri Rahmatullah and Emily Hull, aims to take you on a journey from the pioneering plants of brownfield sites to spaces that have been reclaimed by nature. The planting is bursting with colour and scent, representing a hopeful future where humans can appreciate all that nature has to offer.
Sensory Balance
Nicola Stevens and Danielle Carlson - MA Landscape Architecture
Sensory Balance is a border that's been inspired by autistic friends and family of the designers. Danielle and Nicola have used repetition, structure and a multi-sensory approach in their border to bring balance to the senses.
This design was based on information from The National Autistic Society, which states that over or under-stimulated senses causes anxiety in those with autism. The planting in the border invites you to stimulate multiple senses through touch, taste, listen, see and smell – bringing balance and offsetting the busy show.
The Night Garden
Amy Lagnado and Alex Clarke - BSc Landscape Architecture and BA Landscape Architecture
The Night Garden will explore how plants can be used to soothe the five senses and help us get a good night's sleep. The design has been created to be calming for all hours, offering a soothing and magical view to those who are also sleepless at night.
Designers Amy Lagnado and Alex Clarke will use a palette of peaceful blues in their planting, evoking a sense of calm. Soft grasses will drift through the design, gently whispering in the breeze. Herbs add the final touch to the border, specially chosen for their relaxing scents and properties.
A world-class university – a unique student experience
Sheffield is a research university with a global reputation for excellence. We're a member of the Russell Group: one of the 24 leading UK universities for research and teaching.