Students tackle global challenges through ecological design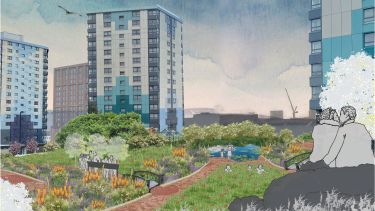 The undergraduates — taking Mel Burton's Landscape Ecology module — were tasked with transforming an area of residential open space in Sheffield, dominated by cars and unused mown grass, in order to tackle issues caused by climate change and urban densification.   
The revamped spaces, within Sheffield's Brook Hill complex, were designed to encourage contact with nature and promote biodiversity, whilst providing residents with useful, multi-functional outdoor areas.
BSc Landscape Architecture student Helena Bills said: "one of the things I enjoyed most about the module was the visit to Manor Fields Park and the inspiration it gave."
"It was a perfect example of how a designed landscape can be left relatively 'wild' looking and have strong ecological value, whilst also being functional and exceptionally popular with the public; perfectly depicting a phrase Nigel Dunnett used in one of our lectures: 'low input, high impact'."
The second-year Landscape Ecology: Ecological Process, Design and Management module introduces students to 'nature-based solutions': green interventions that perform jobs normally carried out by hard infrastructure in cities, but which also provide benefits to the environment and human health.
Module lead Mel Burton said: "students first worked in teams to evaluate the site and then to develop their own ideas about how to transform these spaces into well used and loved places, where rain water is managed sustainably and where people and wildlife can thrive."
"They needed to consider the different cultural and social perceptions and preferences for 'wildness' in cities and how this design approach might be communicated to different audiences."
Helena said: "I introduced a water management system, consisting of both temporary and permanent stores of water, which were planted with drought tolerant planting. This aimed to reduce flood risk on the site's challenging topography, as well as purifying the run-off from roads."
"I maintained and enhanced clusters of large trees, such as Acer platanoides (Norway Maple), to create complex woodland areas, which would be rich in biodiversity value, as well as providing a unique green retreat for residents or commuters in the city."
A virtual exhibition of completed project work was held using the online, collaborative platform Miro. This allowed students to present their own designs, as well as provide feedback on each other's work.
Helena added: "learning about management strategies and maintenance practices was something I hadn't given much thought to before. This module helped to highlight what a big issue it would be in practice and how important it would be to consider for the long term success of your design."