Team behind playground green barrier to launch toolkit for schools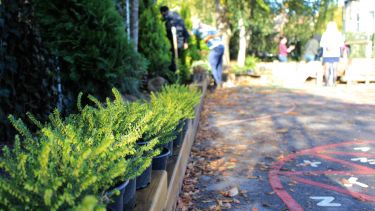 The user-friendly guide, aimed at school communities and landscape practitioners, outlines a step-by-step process for creating green barriers, which improve air quality in playgrounds and provide social, environmental and economic benefits to schools.
Based on the 200ft long barrier, installed at Hunter's Bar Infant School in 2019, the guidance – the first of its kind – sets out the steps to plan, design, install and maintain green barriers, whilst advising on fundraising and collaborating with partners.
---
By launching this toolkit, we aim to demystify the process of installing green barriers and enable other schools to benefit from their transformative potential

Dr Ross Cameron

Senior Lecturer
---
Project lead Dr Ross Cameron, from the Department of Landscape Architecture said: "our data shows that the Hunter's Bar green barrier successfully reduced nitrogen dioxide (NO2) concentrations in the playground by 13%, in the first six months after planting; a figure we expect to increase as the plants develop and fill out."
"We found that the barrier also encouraged pupils to relax, promoted opportunities for play and contributed to improved attention span and better learning."
"By launching this toolkit, we aim to demystify the process of installing green barriers and enable other schools to benefit from their transformative potential."
The launch event will be held at 5.30pm on Wednesday 30 November, in the University of Sheffield's Arts Tower.
Download: Clean air in schools using green barriers
Hunter's Bar Barrier
In 2019, PhD researcher María del Carmen Redondo Bermúdez, from the Department of Landscape Architecture, worked with Hunter's Bar Infant School and Landscape Architects Urban Wilderness to install a 200ft long living barrier, around the school's playground, at the busy intersection of Sharrow Vale and Junction Road in Sheffield.
Consisting of three layers of plants and shrubs, it was designed to filter air pollution from passing traffic and improve the wellbeing of pupils and the environment in which they play.
By taking daily measurements of nitrogen dioxide (NO2) and particulate matter (PM10 and PM2.5), Maria found that the barrier trapped PM and reduced nitrogen dioxide in the playground.
She also noted the barrier provided benefits beyond clean air; pupils and teachers experienced improved wellbeing from the quieter, calmer playground and found their playground to be more attractive, pleasant to be in, and a space where children could learn and connect with nature.
The innovative barrier has received national recognition. The design has been shortlisted for People's Choice Award at the Sheffield Design Awards 2022, whilst Catherine Carr, Head Teacher at the time of installation, was awarded the 2020 TES Environment Champion of the year.
Air quality
A 2021 Sustrans' poll revealed a big increase in children's concerns over air pollution, with half (49%) of UK school pupils worried about air pollution near their school.
It is estimated that 99% of the world's population breathe air that exceeds safe pollutants limits, whilst children's smaller body size means they are most at risk of disease and organ damage caused by pollutants.
Plants create a physical and biological barrier that prevent pollutants from reaching school facilities.
Maria said: "plants act by blocking, depositing, and absorbing air pollutants: they disperse and deflect the wind that carries air pollution; leaves absorb gas pollutants, such as nitrogen dioxide from car exhausts; leaves and bark can also capture small particulate matter, from vehicles' brake and tyre wear, dust from construction sites, and woodburning stoves."
Plant power
The plants in the three layers of the Hunter's Bar barrier were specially selected for their pollution deflecting properties.
Species with waxy leaves such as ivy, encourage small particles to stick to the leaf surface. The leaf structures of fine-leaved species, like conifers and bamboo and hairy-leaved species, including Buddleja and lavender, act as 3D traps for soot and dust.
Plants like lavender provide additional benefits, like supplying a source of nectar for pollinating insects, and adds Dr Cameron: "simply look great."
Green benefits
Using the knowledge created in the original study, the green barrier toolkit aims to help schools overcome common barriers they may face, in taking on similar projects.
Speaking at the unveiling of the Hunter's Bar barrier, Catherine Carr said: "when we first started looking at playground air quality, we didn't find it easy. It was hard to navigate the existing research studies, to know how and what to monitor and, importantly, to know which of the solutions in the marketplace would be most effective as well as affordable."
"We really hope that we can use all of our learning and the relationships we have made along the way, to make the process a little easier for other schools who might come up against some of the barriers we experienced when we started out on this journey."
Toolkit launch
The Department of Landscape Architecture is hosting a launch event for the toolkit on 30 November, at 5.30pm.
Dr Cameron adds: "we aim to celebrate the launch of the Green Barrier Guide, with a short presentation about what was learned from the Hunter's Bar project and how this guide can help other schools acheive similar success. The launch event is aimed at Teachers, Governors, interested parents, Landscape Professionals and other stakeholders wishing to know more about green pollution barriers for school playgrounds. There will be opportuntities for discussions and questions."
Refreshments will be provided.