Wenjia wins IFLA Europe award for climate adapted design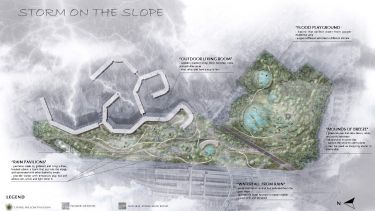 Wenjia fought off competition from Landscape Architecture students and young practitioners in 34 IFLA Europe registered countries to take the top prize.
The international competition, which was judged by a panel including former IFLA Europe Secretary General, Urszula Forczek-Brataniec and IFLA Europe Vice President for Communications, Darija Perkovic, had the theme of Landscape Here and Now.
As Landscape Architects, we should stand with the people most effected by the climate crisis and make our voices heard for them.

Wenjia Liu

BSc Landscape Architecture
Wenjia's entry Storm on the Slope: a Symphony of Wind and Rain proposed a regeneration of Sheffield's Sheaf Valley that aims to anticipate and utilise the effects of a changing climate.
Through design features including 'rain pavilions' and a 'flood playground' Wenjia hopes to future-proof the Sheffield park, allowing visitors to enjoy the space, despite the predicted increase in high winds and heavy rainfall.
She said: "I designed a series of basins and swales on the slope to mitigate run-off. These provide activity areas in sunny days and will hold storm water when it floods. Three permeable shelters are scattered on the slope, so people don't have to escape from the park when it rains, but can stay, enjoy or even play in storm."
Wenjia created her winning design as part of the third year Integrated Urban Design Project, led by Andy Clayden.
Responding to Wenjia's win, Andy said: "it's great to see recognition for interesting work where students of landscape architecture are grappling with the challenges of climate change; creating more resilient cities and thinking about how the urban landscape can be designed to amplify user experience of nature and weather."
Wenjia credits her time studying in the Department of Landscape Architecture with improving her understanding of how to design with nature.
She said: "a landscape is an interconnected system that consists of many natural factors such as land, vegetation, wildlife, water, and human activities. It is shaped by people in every intervention and evolves as time passes."
"When we design with nature, we should study how it works and follow its rules. A successful design should predict future developments and let nature do its work."
It's great to see recognition for interesting work, where students of landscape architecture are grappling with the challenges of climate change, creating more resilient cities.

Andy Clayden

Senior Lecturer
Wenjia added: "winning the IFLA Europe Student and Young Professionals Competition is the best news that I've heard this year! Although things became difficult during the pandemic, my tutors did their very best to help me. I'm very grateful for every tutorial and all the ideas, graphics and models that they helped me to develop."
Having graduated from BSc Landscape Architecture in September 2021, Wenjia hopes — after completing the remainder of her professional training — to put her degree to use to make a difference in countries affected by climate change.
She said: "everyone is vulnerable in the climate crisis, but some people are more vulnerable than others. I'm currently working on a project that helps prevent the Solomon Islands from sinking in rising sea levels. As Landscape Architects, we should stand with the people most effected by the climate crisis and make our voices heard for them; using design as a weapon to confront the global crisis."