We redefine the relationship between nature and culture, enhance ecological biodiversity and produce innovative planting schemes and technologies.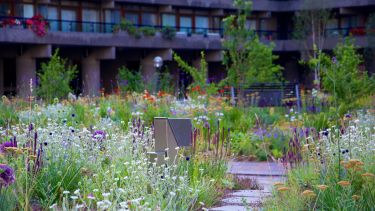 Off
What is the role of nature within our cities? Is the only way to experience its benefits by escaping to the countryside?
The designed ecology research cluster aims to redefine the relationship between nature and culture in urban areas. By producing innovative planting schemes and technologies for urban greening, the work in this cluster aims to enhance biodiversity.
Working primarily in public space, the cluster aims to develop new models of urban form, innovative green infrastructure and groundbreaking urban design.
---
Featured projects
Creating the Urban Meadow
The Urban BESS Meadows Experiment is a unique experiment, set up in the real world, to scientifically measure the benefits of introducing meadows in urban areas. By planting nine different experimental meadows in Bedfordshire, this work found a positive relationship between the aesthetic value of meadows – how attractive they were to people – and their benefits to biodiversity.
Turning Grey to Green
Transforming the heart of Sheffield city centre, the Grey to Green work is the largest continuous greenway and sustainable urban drainage system project in the UK. The project will transform 1.3km of redundant road space into attractive new linear public spaces. This will include developing innovative perennial meadows, interlinked water features, rain gardens, public art and high quality paved footways and street furniture.
Climate Change Impact
Research is being conducted into both how climate change may alter the range of landscape plants used in the UK and people's attitudes to new climate resilient designs. The early results suggest that species may be more resilient than their cultivated counterparts. The public may be willing to accept better-adapted plantings, but the strength of response varies with perceptions about climate change itself.
---
Current/recent projects
BESS - F3UES Project (Fragments Functions, Flows and Urban Ecosystem Services) "Urban BESS" (NERC)
BESS Inter-Disciplinary Scholarship – (NERC).
Health and Well-being in Gardens (RHS).
Road Landscape Amelioration using Native Chinese Vegetation.
Sheffield's Grey to Green Initiative (SCC).
Transforming Melbourne's Park Landscapes through the Woody Meadow Concept.
Wardown Minigolf Meadows: Public and pollinator response to annual meadows of varying colour and species diversity (NERC, Luton Parks Service, Pictorial Meadows).
---
Cluster members
---
Affiliated people and organisations
Associated research centres
Centre for Designed Ecology
Affilated PhD students
Khalid Al Farsi
Sarah Baharudin
Lauriane Chalmin-Pui
Debbie Coldwell
Hannah Ismail
Emma Lewis
Adrien Lhomme-Duchadeuil
Baiyun Li
Michael Livingstone
Veronica Love
Emad Salih
Behdad Alizadeh
Collaborators
Some of the organisations who have collaborated in Designed Ecology research are: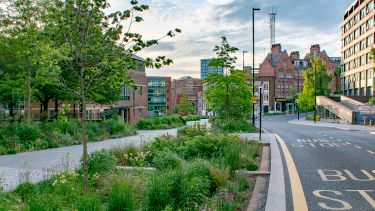 Champions of Landscape Architecture
As the UK's only independent department of Landscape Architecture, we are passionate about the power of our profession to address pressing global issues.
Flagship institutes
The University's four flagship institutes bring together our key strengths to tackle global issues, turning interdisciplinary and translational research into real-world solutions.