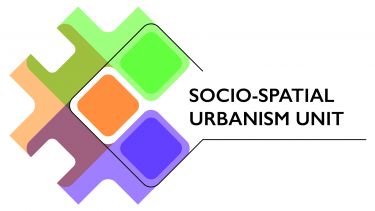 The Socio-spatial Urbanism Unit (SsUU) is a landscape-led urban design research hub housed in the Department of Landscape Architecture at the University of Sheffield.
We are an interdisciplinary group of academic researchers, teachers and practitioners who explore new agendas of thinking and theoretical development focused on social understandings of urban open spaces. The unit aims to integrate the social, spatial and material dimensions of human-environment interactions through theoretical development focused on:
Crossing boundaries of landscape architecture and urban design along with fields such as environmental psychology and cognitive neuroscience to establish a new disciplinary paradigm better able to address socially-oriented urban place-making challenges;
Providing foundations for exploring practical applications of new theoretical structures;
Establishment of socially oriented approaches to integrating research, teaching and practice.
Leadership
Dr. Kevin Thwaites
BA, DipLA(Dist), PhD
Senior Lecturer, Department of Landscape Architecture, The University of Sheffield
My research interests and activities focus on two main themes, which are integrated into approaches to research-led-teaching: the theory and philosophy of urban landscape design and their impact on the intellectual underpinning and conceptual development of design processes and spatial languages; socially sustainable approaches to planning and design in urban open spaces, particularly how spatial and experiential dimensions converge to influence psychological health and well-being.
---
Dr. James Simpson
BA, MLA, MA, PhD
Lecturer, Department of Landscape Architecture, The University of Sheffield
My research attempts to unpack everyday sensory experiences of urban environments. This is whilst comprehending how these human-environment interactions are often impacted by a combination of everyday social actions and material considerations. As a result, I am interested in understanding how urban places become physically established, at a human scale, through a combination of professional intervention and actions of territorial appropriation and personalisation. This is particularly within the context of streets and in relation to their indoor / outdoor edge interfaces, which when socially and experientially responsive, have the capability to provide vibrant and engaging urban settings for people to inhabit and use during their everyday lives.Profile
---
Aimee Felstead
BA, MLA, MA
PhD Researcher, Department of Landscape Architecture, University of Sheffield
My research interests explore the everyday social interactions, incremental adaptions and sharing involved in making liveable urban places, alongside creative methods for involving communities in research and design. My PhD research looked at cohousing cases to rethink how residential landscapes can function as urban commons, resulting in the development of a pattern language for residents' involvement in shared outdoor spaces and key ideas for implementing urban commons in practice.
---
Clarissa Smith
MLA (Masters of Landscape Architecture)
SSUU Researcher, Graduate Landscape Architect at Planit-ie
My interest lie in bringing human scale aspects back to landscape design focusing on the correlation and interaction between the material, spatial and social factors. Using this interest to contribute to a new accessible guidance document and pilot studies that support research into transitional edges and micro-environments.
---
Collaborators
Jie Xiong
BEng, MAUD
PhD Researcher, Department of Landscape Architecture, University of Sheffield
My research interests focus on top-down and bottom-up decision-making practices within Chinese urban village street edge spaces, relating to how territorially material, spatial, and social attributes affect different stakeholders' engagement. My current PhD research aims to explore a new theoretical framework for a socially responsive street edge to positively influence social inclusion and well-being.
---
Dr. Yuhan Shao
BSc, MLA, PhD
Associate Professor of Landscape Architecture, Head of Academic Development Institute, College of Architecture and Urban Planning, Tongji University
I am dedicated to researching theories and methodologies relating to landscape urban design, with expertise in landscape perception, restorative cities, landscape health and well-being. My recent research explores the resilience of landscapes in the face of human intervention. In particular, the role of urban landscape design as an inclusive bonding agent, carrying complex functions and achieving a sustainable coexistence between urban development and landscape.
---
Dr. Yuting Yin
BSc, MA, PhD
Post-doctoral researcher, College of Architecture and Urban Planning, Tongji University
My research focuses on understanding the interaction between urban environments and human perceptions and also developing design implications through the exploration of their connections, especially those concerned with human psychological health and well-being. This interest is rooted in the general context of socially restorative urban design, which highlights the social value of urban everyday spaces.
---
Daniel Mottram
BSc, MA
PhD Researcher, Department of Landscape Architecture, University of Sheffield 
The focus of my PhD research relates to the application of lived human experience in designing new urban places in the context of evolving technology and shifting environmental attitudes in urban placemaking today. My research interests in lived experience, phenomenology, language and urban placemaking have developed over the past 14 years working professionally in urban design, landscape architecture and environmental industries. Currently, I am investigating whether applied research from these fields can help develop guidance and policy for the industry to design more human-centric urban places.
---
Lucas Hughes
BA, PgDip LA, MA UD, PgCertLTHE
PhD Researcher - Department of Landscape Architecture, University of Sheffield
Course Director MA Urban Design – Birmingham City University
Research interests: On the perceptions of meaning of urban places: created, implemented and analysed: and with relation to approaches to communicating this in collaborative and more representative ways; with urban design as a transdisciplinary and participatory field of research and practice. Within these topics, my current PhD study looks to develop an integrated framework for the use of augmented and virtual reality for experiential, spatial communication of design ideas, as well as facilitate collaborative processes, via understanding the scope, gaps, barriers and potentials that emerge.