Portfolio Submission Guidance
Portfolio submission guidance for Landscape Architecture undergraduate courses.

Through your portfolio we're looking to see personality, the processes you've used, and a passion for the subject matter.
For Applicants to:
BA Landscape Architecture (KCK4)
BSc Landscape Architecture (KC39)
MLA Landscape Architecture (K310)
A portfolio is a document that showcases a selection of your unique, creative work. It is a document that reveals your personality, thinking processes, critical analysis and passions. Landscape architecture is a diverse industry and your portfolio is an opportunity to showcase your particular interests and strengths. A portfolio is an accumulation of work that exemplifies your beliefs, skills, qualifications, education and experience. 
Your portfolio should include a cover page, with your name and UCAS number, along with your chosen images and creative work.
We accept the following file formats: Microsoft Word document (.doc / .docx) PowerPoint presentation (.ppt/.pptx) Portable Document Format (.pdf) We will also accept individual image files (.gif, .jpg, .pdf)
The total size of the portfolio you submit should be 6MB or less. Please be aware that we do not accept archived files (e.g. ZIP, RAR, SIT, 7Z), any other desktop publishing file formats or invitations to access file share websites. We cannot accept animations or films.
If you are not studying an Art/ Design subject don't worry, we would still like to see a portfolio from you! Your portfolio can be a combination of up to three short pieces of writing about landscapes, as well as three attempts at visual work (only one of which can be photography). One of your pieces of visual work should include the street exercise mentioned below.
As a minimum, please try and include:
Up to 10 drawings, which explore the qualities of three places that are of interest to you
Two of the places should be public landscapes (for example a public park or nature reserve)
One should be your street – this should be in a medium of your choice and accompanied by a short piece of text (maximum 200 words)
Please do include annotations to help us understand why you have selected each example and the process you took to produce the work.
Step 1: Be creative! Exploring different media
Your portfolio should contain eye-level sketches, in which you may want to include:
Observation of detail, communicating place at different seasons or times of day
Annotations of how a place is used and your own reactions.
Be creative and try to use different media, if possible. Some examples include:
Step 2: Get sketching! Explore 3 places
In your portfolio, include observational sketches made in both public projects and nature reserves. Look at the two examples shown below for inspiration.
Public park: 
Nature reserve: 
Step 3: Get to know your street!
Observe the environment around you; this can be either your own street or a street near to where you live. Look at the images below for some ideas of questions you may want to consider. What else do you think is significant to note about your street?
Observations through the seasons
Consider how the seasons might impact the environment you've chosen - trees make the streets look different in every season, especially in autumn when they change colour. 
Further resources: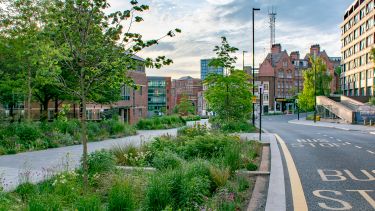 Champions of Landscape Architecture
As the UK's only independent department of Landscape Architecture, we are passionate about the power of our profession to address pressing global issues.