You feel like you can have a lasting impact on an area and the people who live there
Landscape Architecture BA
Amy didn't see herself as a creative person, but her degree taught her that everyone has an artistic streak in them.
What was your favourite subject at school and why?
Latin - I loved learning about roman history and literature and the impact it has had on much of our world today.
Why did you decide to study Landscape Architecture at Sheffield?
I've always been interested in the outdoors, and many of my hobbies, such as fell running and trad climbing, have given me the privilege of exploring wild and beautiful spaces around the country. I think it was this curiosity that led me to want to study Landscape Architecture so I could learn more about our natural world and how we can start replicating these kind of spaces within our built environment.
---
I've always liked looking at the bigger picture and this is what made the BA route very appealing to me. Planning allows you to look at such large scale areas and really strategise about how to improve them. You feel like you can have such a lasting impact on an area and the people who live there.

Amy Lagnado

Landscape Architecture BA
---
In what way (if any) was your course different from what you expected?
It was far more interactive than I thought it would be. You really get a lot of one on one time with tutors which helped further learning.
What did you enjoy most about your course?
The course has a lot of contact time which made me feel part of the landscape community. Tutors were great at providing tutorials and feedback that always focused on bettering your work.
What do you hope to do with your degree in the future?
I would love to work in the conservation sector, delivering environmental focused projects in one of the UK's national parks or for the National Trust
What advice would you give to someone considering studying Landscape Architecture?
I think it would be that you don't have to necessarily come from a design or creative background. I didn't study art or necessarily see myself as a creative person, but the degree taught me to look at the world in a different way and that everyone has an artistic streak in them. If you're curious about the environment it's the perfect degree that equips you with a number of transferable skills that you can take in any direction you would like.
If you had to pick one stand out memory from your time in Sheffield, what would it be?
The second year exhibition where we all showcased our designs for a new park near Sylvester Street. It was a really nice end to the group project and getting to see everyone else's hard work and ambition for the site.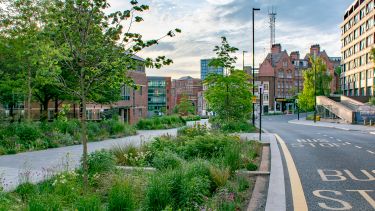 Champions of Landscape Architecture
As the UK's only independent department of Landscape Architecture, we are passionate about the power of our profession to address pressing global issues.