The course combined my enthusiasm for nature, with a desire to shape the world around me
Landscape Architecture BSc, MLA
Alex quickly realised how Landscape Architecture combined his creative and academic knowledge as well as providing the opportunity to build a fantastic community of people around him.
What initially attracted you to Landscape Architecture?
In the years running up to university I was convinced I wanted to study architecture. However, whilst doing some work experience at an interdisciplinary company,  stumbled across the world of landscape. I quickly noticed how the subject combined my enthusiasm for nature, with a desire to shape the world around me — the rest is history.
What did you study before University and how did that prepare you?
At college I studied A levels in Mathematics, Business, and Art. This mix of academic and creative subjects very much resembles the range of knowledge which is taught during the degree. All of my A levels have proved to be useful, and I would say any subject's have relevance to landscape architecture in some way or another.
What attracted you to the particular course you chose?
During my undergraduate studies I chose the BSc option. I chose this because I wanted to learn more about the ecological implications of designing landscapes, and also because I have a personal interest in ecological restoration and rewilding. After graduating with a BSc I worked in practice for a year and decided I wanted to further my studies — I returned to university to complete my masters.
Was the course what you expected it to be?
The course has been what I expected and far more. Before studying I could never have known about the diversity of skills that the course would teach me, or what I would learn about myself and who I am.

Alex Clarke

Landscape Architecture BSc, MLA
Which elements of the course did you particularly enjoy?
I enjoyed the horticultural element of the course, and found ways to practice what I had been taught out in the real world. With help from the university, and along with some other students, I designed and exhibited a small garden at the RHS Chatsworth Flower Show. I also took part in some smaller endeavours, like volunteering with the Sheffield Wildlife Trust and the local land management company Green Estate.
What key skills do you think you've learnt?
I've learnt how to approach things with a balanced and holistic approach. Landscape architects specialise in being non specialists, and having a finger in many pies as it were. Thanks to my studies I feel like I have skills and knowledge which I can use in many jobs across many different disciplines.
Did you participate in any study abroad or placement opportunities?
During my placement year I was lucky enough to have worked for a landscape studio in Oslo, Norway. Despite some Covid restrictions, I had an absolutely cracking year where I got a taste of the working life as well as some time to explore a beautiful country. Since we choose who to work for and where to work, I strongly recommend moving away and experiencing a new place.
What are you most proud of during your studies?
In contradiction to what many might expect, I would actually say the thing I am most proud of during my studies is the community of people that I've managed to build around me. I will certainly maintain contact with people from the university, and hopefully visit every now and then. 
Both the course and the student lifestyle at Sheffield are very sociable, and if you choose to get involved in things there are endless opportunities to make lasting friendships, get to know the tutors, and connect with local companies.

Alex Clarke

Landscape Architecture BSc, MLA
What do you hope to do with your degree in the future?
I will use my degree to find a career that I'm not only suitably trained for, but one that embodies my interest in plants, wildlife and sustainability. 
My degree has genuinely changed my perspective on life, in particular it has given me a great respect for the fragments of green space, and natural landscapes in our cities and rural areas.

Alex Clarke

Landscape Architecture BSc, MLA
What's next?
Since finishing my studies a few weeks ago, I already have a few small garden design commissions around Sheffield to crack on with, as well as a contract for a landscaping job over in Oslo where I did my placement year. Furthermore, I have a feeling that in a year or so I will be on the lookout for a PhD...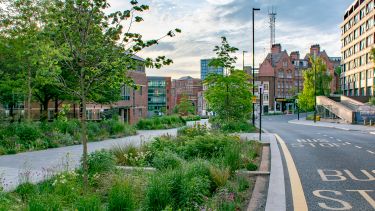 Champions of Landscape Architecture
As the UK's only independent department of Landscape Architecture, we are passionate about the power of our profession to address pressing global issues.
Explore the University
Discover why Sheffield is the right choice for you at one of our open days or events.