Luxembourg Studies Colloquium 2021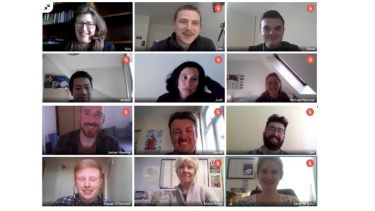 This year's Luxembourg Studies Colloquium took place virtually on Friday 7 May 2021. As with the previous year, the unique opportunities provided by the digital platform enabled a diverse and engaged audience of over 40 participants to join from the UK, Luxembourg and beyond. We were delighted that HE Mr Jean Olinger, Luxembourg Ambassador to the Court of St James's and HMA Ms Fleur Thomas, British Ambassador to Luxembourg, participated in the Colloquium were able to  open and close  the colloquium respectively with powerful words about the value of education and international cooperation.
Our programme featured a wide breadth of topics and brought together students and researchers at varying stages of their academic careers. In the morning sessions, second and final year undergraduate students gave group presentations on a variety of themes, from Luxembourg's role during the Second World War to changes to its economic structure post-1945. This was followed by further individual presentations from undergraduate and postgraduate students on debates around language policy in Luxembourg. All student presentations were well-received and led to many fruitful discussions and sharing of insightful comments and questions from an inspired audience.
All the presentations are always so unique and intriguing.
In the afternoon, scholars from both the University of Luxembourg and the University of Sheffield, as well as the Universities of Bristol and Bangor, had the opportunity to discuss their research with the audience. We were treated to fascinating ongoing and completed research projects which provided insight into the themes of inclusion and exclusion in the domains of language policy and education, among others. The Colloquium was brought to a close with a keynote speech from Dr Cyril Wealer on the challenges of linguistic diversity within education, and participants were then able to continue their discussions at a virtual reception. Whilst the hope remains that a return to an in-person event may be possible in the not-too-distant future, the digital format was embraced and the day was a resounding success, providing ample opportunities for insightful and informative discussions about the Grand Duchy.
Listen to Dr Cyril Wealer's keynote here
I very much enjoyed the day. I had not intended to ask so many questions/make so many comments, but found the presentations so interesting that I wanted to contribute.
I enjoyed the variety of information that was shared, which I would not normally come across in my day to day life.
Written by Jamie Wilson, an MA student in Translation Studies at the University of Sheffield.
Events at the University
Browse upcoming public lectures, exhibitions, family events, concerts, shows and festivals across the University.