Luxembourg Studies Virtual Colloquium 2020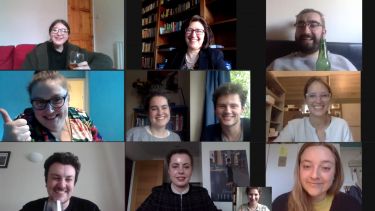 This year's Luxembourg Studies Colloquium took place virtually on Friday 15 May 2020. Embracing the opportunities and inclusivity of the new digital format, we were able to welcome an international audience of 60 participants, with individuals joining not only from the UK and Luxembourg but also Germany and Italy. We were delighted that HE Mr Jean Olinger, Luxembourg Ambassador to the Court of St James's and HMA Mr John Marshall, British Ambassador to Luxembourg, participated in the Colloquium.
Our programme covered, as usual, a wide range of topics and included students and researchers at different stages of their career. First, Jeanne Glesener, an associate professor for Luxembourgish Literature at the University of Luxembourg, delivered a fascinating keynote on Kulturgeschicht Lëtzebuerg. In the morning and afternoon, final year undergraduate students presented their research on a range of topics; including debates around citizenship in Luxembourg and the Luxembourgish film industry. Questions and comments from the engaged audience led to insightful discussions, and we are immensely proud of the positive feedback we received linked the our undergraduates' presentations:
I was impressed by the quality of the undergraduate presentations, given the challenges for students' research resulting from library closures and physical working spaces.
In the afternoon, postgraduate students from both the University of Luxembourg and the University of Sheffield, as well as members of the Centre for Luxembourg Studies, had the opportunity to discuss their research with the audience. 
The virtual Colloquium marked the 25th anniversary of the Centre for Luxembourg Studies at the University of Sheffield, and also launched the website Lëtz Create: Geschichten op Lëtzebuergesch, which showcases stories and their audio-recordings that undergraduate students have been creating for their Advanced Luxembourgish module over the last three years. At the end of the day, the undergraduate students were joined by several alumni and reflected on their time as undergraduate students reading Luxembourg Studies. 
Extremely inclusive and informative, with the best Luxembourg-orientated brains focusing on all aspects of its culture and its future as a small country. A superbly presented day that, in my opinion, could not be bettered.
I thoroughly enjoyed the talks that I attended at the virtual colloquium, it was nice that it was still able to go ahead, albeit in an online format and it was useful to learn new concepts which could potentially be applied to my masters studies!"
Events at the University
Browse upcoming public lectures, exhibitions, family events, concerts, shows and festivals across the University.