Sociolinguistics Lecture and Luxembourgish Taster Class at Europe House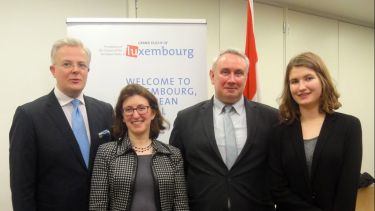 Dr Kristine Horner and Sarah Muller gave a well-received lecture on the sociolinguistics of Luxembourg, followed by a Luxembourgish language taster class, at Europe House in London on 16 December 2015. The lecture set the national language in social and historical context, focusing on the way in which the status of Luxembourgish has shifted over the past two centuries. The subsequent taster class allowed participants to engage in language learning activities in relation to learning about the geography of Luxembourg.
I had no previous knowledge of the language at all and was fascinated by the political and sociological aspects of its development.

Participant comments
I was surprised by how much I learned despite having visited Luxembourg many times and having Luxembourgish friends. Brilliant evening.
Among the 50 participants at this event in London to round off Luxembourg's Presidency of the EU Council were Mr Jean Claude Kugener (Deputy Head of Mission, Luxembourg Embassy in the UK) and Mr Stephen Turkington (Language Officer, European Commission Representation in the UK). The reception was generously sponsored by the Luxembourg Embassy in London.
I was surprised how a language spoken by the people wasn't made an official language until 1984! GREAT PRESENTATION! VERY ENGAGING THROUGHOUT!

Participant comments
The speakers were brilliant and truly engaging. Thank you for giving us a taste of Luxembourg!"