The IDC in Machining Science is a unique collaboration between the University of Sheffield's Advanced Manufacturing Research Centre (AMRC) and the Faculty of Engineering.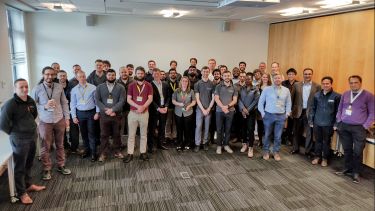 The IDC provides EngD and PhD training with a focus on machining science. Our aim is to bring together the brightest engineering postgraduates, academic expertise and industrial partners to develop new technologies and skills for the benefit of all partners.

The IDC has dedicated work space for students on main campus, and also at the AMRC research facilities on the Advanced Manufacturing Park, Catcliffe (see Contact us for our location). Research mainly takes place at AMRC where students have access to state-of-the-art facilities and highly skilled staff. Teaching takes place on main campus with academic perspective provided by staff from the Faculty of Engineering.
---
Established in 2001, the AMRC is a world-class centre for collaborative research. The AMRC focuses on advanced machining and materials research for aerospace and other high-value manufacturing sectors. All research is led by industrial partners, ensuring that work provides lasting value.
The AMRC has over 60 industrial members, from global aerospace giants to local SMEs; and employs around 200 researchers and engineers, from apprentices to PhDs. It has received numerous awards, including Boeing Supplier of the Year.
The AMRC is based in two purpose-built centres, including the landmark Factory of the Future, on the Advanced Manufacturing Park in Catcliffe.
---
Machining Science is the application of engineering theories to improve the machining of metals, alloys and composite materials. It covers a wide range of operations where material is removed as part of the production process (eg hole generation, turning and finishing), and crosses many engineering disciplines including dynamics, vibration, tribology, materials science, control systems, drive and actuation systems, and robotics.

Machining Science is a vital research area for companies in the HVM sector (eg automotive, aerospace, medical engineering) where at least 25% of the process time for components arises from machining. The sector faces huge challenges, such as the difficulty of machining complex components from high performance (hence difficult to machine) materials, the cost of energy and raw materials, environmental sustainability, and the threat of international competition.

The IDC is dedicated to developing the next generation of postgraduate researchers in this crucial area of the UK economy. Our industry sponsors represent all parts of the HMV supply chain from materials suppliers through to aircraft manufacturers. Our current sponsors include :  Rolls-Royce, Safran Group, Seco Tools, Sandvik Coromant, Element Six, Hexagon Metrology and Carpenter Technology.
A world top-100 university
We're a world top-100 university renowned for the excellence, impact and distinctiveness of our research-led learning and teaching.