Your support to the department and the University is transformational.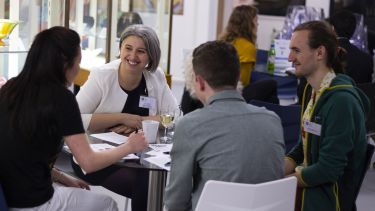 Off
With your help, we invest in world-class research, first-class teaching and learning facilities, the preservation and study of heritage and in ensuring that the brightest students, regardless of background or financial ability, are able to achieve their full potential and take advantage of the range of experiences a university education has to offer.
Below are just a handful of the ways in which you can support us.
Share your skills and experience
Open days
The University and the department hold regular open days to present what we have to offer to potential undergraduate and postgraduate students. One topic of discussion that often comes up, both from the students and their parents, is career prospects and employability. While we can talk to them about job options at the end of their course, there's nothing quite like hearing it from someone who's been through the process.
We are keen to hear from alumni who are happy to speak to students and parents about their own careers following graduation.
Career guidance
Some of our students and recent graduates have a clear idea of their next step after university, others do not. You can help students by sharing your university and career experiences and advice. Prospective students can visualise where their time at Sheffield may lead them, and current students can ensure they gain the relevant experience through your advice.
Speed Networking
Giving current students the opportunity to talk to alumni helps them to formulate their plans for the future, when thinking about their careers and study options. Students from all academic years move around the room in groups, speaking to different alumni for 10 minutes before moving to the next. These speed networking events have proven very successful in the past.
Global Engineering Challenge
The Global Engineering Challenge is a week-long project where first-year students from the Faculty of Engineering work in cross-faculty teams to tackle a real-life engineering problem. These teams benefit greatly from the knowledge and expertise of people working in industry to guide them to their solutions.
Corporate sponsorship
How your company will benefit
Put your company in good company
Provide visible support for our taught programmes that serves our students
Demonstrate your company's commitment to unlocking knowledge by providing major support for our students. Your company will be acknowledged with its logo in our departmental home page and in the taught programmes pages and in our newsletters as an organization committed to improving education
Fundraising and donation
We've been at the forefront of Metallurgy and Materials Science and Engineering for more than 100 years. In order to maintain this position we seek financial support to provide alumni scholarships to undergraduate and postgraduate students facing hardship and to improve its teaching facilities.
Our fundraising campaign priorities
Provide greater student support
Increase discretionary resources
Enhance our facilities
If you'd like to make a donation directly to the department, when completing your donation form or any correspondence regarding your donation, ensure that you clearly state your gift is for the Department of Materials Science and Engineering. For further information, please visit:
Stay connected
The department has an alumni group on LinkedIn. Take a look at what your fellow alumni are doing now, and stay connected.
Contact
If you would like to discuss corporate sponsorship or specific donations or you would like more information about making gifts to your department, please contact our Head of Department, Professor Serena Cussen.
Department of Materials Science and Engineering
Sir Robert Hadfield Building
Mappin Street
Sheffield S1 3JD
Email: s.cussen@sheffield.ac.uk
Tel: +44 114 222 5974
A global reputation
Sheffield is a research university with a global reputation for excellence. We're a member of the Russell Group: one of the 24 leading UK universities for research and teaching.