Surface Characterisation at the Most Fundamental Level: Atomic Force Microscopy comes to the Henry Royce Institute in Sheffield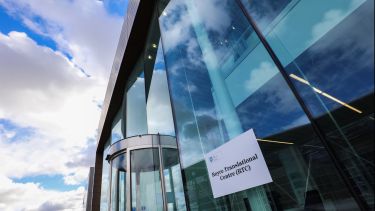 At the cutting edge of scanning probe microscope (SPM) technology, Royce's atomic force microscope (AFM) has applications in corrosion science, soft conductive materials, metals and coatings, electronic materials, and biomaterials. It enables sample characterisation at the most fundamental level available, and it will be accessible to industry and academic research through the Henry Royce Institute.
Dr Alice Pyne worked directly with microscope manufacturer Bruker to develop this unique set-up combining the nano-electrochemical version of the Dimension XR AFM with a FastScan Bio, which adds the capacity to conduct AFM experiments at faster speeds in solution.
Using a similar set-up at Bruker's US headquarters in 2014, Pyne demonstrated the first visualisation of variations in the structure of the DNA double helix on a single molecule, showing detail that had not previously been detectable.
With expertise in high-resolution single-molecule studies of DNA, Dr Pyne has been developing new AFM systems and techniques for most of her academic career. She has exploited these techniques to interrogate DNA interactions, as a basis for developing a possible class of anticancer therapeutics.
We interviewed Dr Pyne to learn more about her research, and the capabilities that the new AFM will bring to Sheffield.
---
Welcome to Sheffield! How long have you been in the Materials Science and Engineering Department?
Thank you! I arrived in August 2019 as an MRC/UKRI Innovation Fellow, and Lecturer in Soft Matter and Polymers. I've come up from the London Centre for Nanotechnology, which is based at UCL, where I was working in collaboration with Bruker to develop an AFM system capable of creating the highest-quality AFM images of the DNA double helix.
What sorts of questions do you aim to answer with your research?
My research interests lie in understanding how variations in DNA structure can affect fundamental biological processes such as replication and transcription. I'm motivated by determining biomolecular mechanisms of action, with the longer-term aim of improving the development of therapeutics.
What excites you about joining the Department of Materials Science and Engineering at Sheffield?
My research spans multiple disciplines, with links to physics, mathematics, engineering, biomedical sciences and chemistry.
---
I'm excited to be a part of the wide-ranging research expertise contained within MSE, and to be in a research environment based at the interface of all those disciplines, united by a keen interest in the characterisation and development of materials.

Dr Alice Pyne
---
More widely, Sheffield is emerging as a hub for AFM equipment and expertise in Europe, as the Royce instrument complements the existing AFM facility within the IMAGINE institute in the Department of Physics.
The AFM will be accessible to academics and industry through the Henry Royce Institute. What are some other areas of research that might benefit from AFM-level imaging?
At root, anyone interested in materials might benefit from working with the AFM. We often characterise materials by the bulk properties we can easily measure on a macroscopic scale. However, it is a material's nanoscopic defects, vacancies and grain boundaries that can dictate its behaviour.
AFM can be used to determine nanoscale chemical, mechanical (modulus, stiffness, viscoelastic, frictional), electrical, and magnetic properties. By understanding the fine detail of a sample's surface properties, we can help to optimise the performance of a huge variety of products, materials and devices from functionalization of gold surfaces, to polymer composites, to cell interactions and bacterial research, to doping semiconductors, AFM has enormous potential to enhance our understanding of the material world.
It's fantastic that the instrument will be available to external users, to facilitate this sort of fundamental research across a broad range of disciplines.
Is that what attracted you to work with the Henry Royce Institute in Sheffield?
Yes, in part. I've always worked closely with industry to ensure that my research has direct applications. With such a strong industry focus at the Henry Royce Institute, we can ensure that the cutting-edge research being carried out at Sheffield has the greatest possible impact.
The AFM will be situated in the brand new Royce Discovery Centre (RDC) when the building opens in 2020. Why is the RDC such a good location for your microscope?
On a practical level, AFM works by running a probe over the surface of a sample and measuring the displacement, to the order of fractions of a nanometre. As you might imagine, this makes for a highly-sensitive instrument, so ideally an AFM should be operated under environmentally controlled surroundings.
At the RDC, we'll have a state-of-the-art facility with a brand-new AFM laboratory-developed with those parameters in mind, so we can expect really high-quality results there.
Furthermore, the Henry Royce Institute is aligned to the UK government Industrial Strategy, and the programme of research is set up to respond to evolving national priorities. Royce Partner institutions work collaboratively, sharing facilities and expertise across their complementary research areas, with the potential to transform the digital, engineering, energy and health sectors. That's an incredibly exciting prospect.
---
Dr Pyne has already enjoyed using the new microscope, getting some high-resolution images of DNA minicircles, as part of her research for her current UKRI/MRC fellowship. You can find out more about Alice and her research on her Staff Profile page and her lab's website.
For more information about the AFM, or to enquire about accessing it, contact us on Royce@Sheffield.ac.uk
Top in the Russell Group
We are the top-ranked Russell Group university for Graduate Prospects in Materials Science and Engineering. (The Times Good University Guide 2020)
A world top-100 university
We're a world top-100 university renowned for the excellence, impact and distinctiveness of our research-led learning and teaching.