Centre for Glass Research
Glass Science and Technology has long been an important element in the University's research profile, and the Centre for Glass Research provides a national and international focus for this work.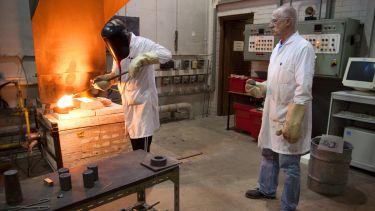 The current directors of the Centre are Emeritus Professor John M Parker and Professor Russell J Hand.
Professor Neil Hyatt and Dr Claire Corkhill are leading academics in the field of nuclear materials, with much of their work focussing on the use of glass for nuclear waste containment.
Current research interests include:
Structural characterisation
Optical properties including colour and applications such as optical fibres
Vitrification
Crystallisation
Glass ceramics
Glass composite materials
Nuclear waste glasses
Coatings
Strength
Durability
Chemical durability
---
Glass making
We can make a wide variety of glass types including chalcogenide and fluorides. Within the Department of Materials Science and Engineering are facilities for making glasses for experimentation and research, with furnaces that can melt glasses up to a temperature of 1600°C, with melt sizes ranging from 50g to 500g.
Dr Lisa Hollands leads the glass making activities for the department.
---
---
Links and interactions
While primarily based in the Department of Materials Science and Engineering, the Centre has active links to:
Archaeology (Professor Caroline Jackson)
Clinical Dentistry (Professor Paul Hatton & Dr Cheryl Miller)
Numerous interactions with other universities and research organisations both within and outside the UK also exist.
---
Working with industry
The centre attracts a steady stream of enquiries, ranging from legal liability cases to requests for information from the public concerning specific aspects of glass behaviour. Many firms also contact us concerning the manufacture of specimens or property design.
We are keen to build on our existing strengths in glassy materials and developing further links to outside organisations.
---
Contact the Centre
For more information about the Centre for Glass Research, please contact Professor Russell Hand.
---
Find a PhD
Search for PhD opportunities at Sheffield and be part of our world-leading research.