Giving me the tools to make a real difference in industry and research

Nabeeha Farooqui
Undergraduate student
Metallurgy (MEng)
Nabeeha came to Sheffield to study for her MEng in Metallurgy. She enjoys the varied and stimulating experience of studying elements from a broad range of science disciplines.
Why did you choose your course?
I enjoyed studying Physics, Mathematics, Biology and Chemistry at A levels and wanted to do a course which contained all of these. In studying materials, there are elements of all the above subjects taught in a cohesive way.
What have you enjoyed most about your course so far?
It's a course which involves elements from all the different branches of science. Thus making a varied and stimulating experience.
It also provides the right mix between theoretical and practical knowledge giving you the tools to make a real difference in industry and research.
What do you think about Sheffield as a city?
I think there are two things that are especially good about Sheffield; one of these is the number of trees in the city, making it one of the greenest cities here in the U.K.
And the other is that the city is full of students, mainly because it has two great universities. Students add a certain zest to this place with their own weird sense of style, and chirpy attitude.
Have you got any particular academic achievements or extra-curricular achievements you'd like to highlight?
I have been on committee positions for more than four societies.
I also secured a 2 week internship in my first year which was related to metal casting.
What are your ambitions for the next few years?
To get the maximum of my university experience and to obtain as much knowledge as I can from my course so it helps me secure a good job
What would you say to A Level students if they are considering studying engineering at University?
Sheffield university is one of the best places to study engineering as you develop knowledge and expertise, while gaining industry-relevant practical skills. This gives you a range of opportunities after you graduate
Top in the Russell Group
We are the top-ranked Russell Group university for Graduate Prospects in Materials Science and Engineering. (The Times Good University Guide 2020)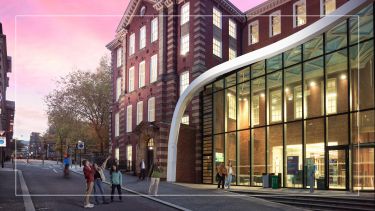 Visit us
Discover what sets Sheffield apart at our undergraduate open days on the Saturday 21 October or Saturday 18 November.