The placement has allowed me to really understand the content of my 1st and 2nd years.

Samuel Jackson
Undergraduate student
BEng Materials Sciences and Engineering with a Year in Industry
Samuel is doing his placement at Airbus Defence and Space in Stevenage 
Why did you decide to do a placement? 
I decided to take a year in industry placement as it would allow me to gain valuable industrial experience and to become a better, more well-rounded engineer. 
I have always preferred to work on real-world problems compared to theoretical problems so I thought it would be a fantastic opportunity to challenge myself, whilst also improving my employability once I graduate.
What was the application process for your placement?
Once I submitted my application I was invited to complete a psychometric test (ArcticShores) for the company, this test is on a pass/fail basis.  If you pass the test, you will then be invited to attend an interview with the company, at the time, covid was still quite a big issue so this was online. After a few weeks I was phoned by the HR team at Airbus to confirm that I had landed the placement.
Did you access any help from the University Year in Industry team when finding and applying for your placement? 
I attended all the talks the team organised with companies looking to hire placement students, this was partially to network but also to see what these companies expected from students. 
I also made sure to book appointments to refine and streamline my CV and cover letter, this proved to be insanely useful as it allowed me to get feedback from others which weren't my parents.
What support did you get from the Year in Industry team / University / Your Department during your placement? 
Although I haven't completed my placement yet I have received plenty of emails checking in on me and to make sure everything is in order. I also know that if I have an issue come up I can always email the team.  
Can you give a brief overview about what your placement involves.
Materials and Processes Engineer 
My main responsibilities was in the development and improvement of the processes and materials used on site in various projects. This included R&D and material qualifications. 
What are you enjoying most about your Year in Industry?
Gaining relevant industrial experience, and earning some money whilst doing so. 
What do you think you'll gain from your placement?
My soft skills have improved significantly since starting the placement, as have my writing skills. As well as this my technical knowledge has developed and I believe that the placement has allowed me to really understand the content of my 1st and 2nd years. 
How has your placement influenced your plans for your future career?
I had a clear idea of what I wanted as a future career so it hasn't really changed that, but it has definitely showed me how to reach the goals I have for myself better.
It's also really helped me to decide what industry I want to go into after I graduate.
Top in the Russell Group
We are the top-ranked Russell Group university for Graduate Prospects in Materials Science and Engineering. (The Times Good University Guide 2020)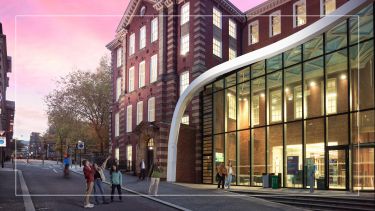 Visit us
Discover what sets Sheffield apart at our undergraduate open days on the Saturday 21 October or Saturday 18 November.