Students design expanded careers support for maths undergraduates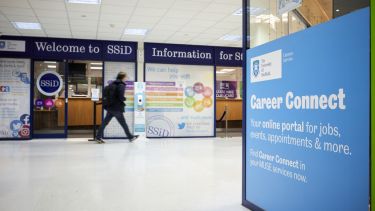 Mathematics and statistics students at the University of Sheffield will be getting even more support to help them prepare for their future careers from this September.
A new approach to employability training – developing the skills, experience and attributes that make someone ready for the workplace – is being introduced for all undergraduate students in the School of Mathematics and Statistics.
The plans have been designed by a team including undergraduate students James Christian, Lewis Bulled and Margo Sulek, who completed summer internships alongside careers experts in the School of Mathematics and Statistics Employability Team.
Students starting their mathematics and statistics degrees from September 2022 will benefit from:
Careers and employability skills training that is built into core modules from their first year
A focus on identifying, developing and showcasing the skills that employers really value
Margo's resources, which help students identify and showcase the skills they already have
James' worksheet, which encourages the students to make plans for developing their skills in the future
Lewis' activity, which involves producing a poster about a chosen career and discussing it with other students at an end of year networking session
These additions to the first year curriculum build on existing careers support in the School of Mathematics and Statistics, which includes regular events with recent graduates and returning placement students, who have already applied the skills and knowledge they learned in Sheffield to their chosen career.
Student intern Margo Sulek said: "We have carefully created resources to help maths students develop the crucial skill of reflective thinking and writing about their skills, something which will immensely help their personal development and employability."
As well as all the maths they learn, undergraduate students in the School of Mathematics and Statistics are trained to identify their strengths, articulate these to employers, reflect on areas where they can improve and explore the career opportunities that are available to them.
Professor Caitlin Buck, who leads the employability team in the School of Mathematics and Statistics said: "It has been immensely rewarding working with student interns to develop new curriculum content. Between us, we have created much more interesting, varied and immediately useful resources than the staff would have developed otherwise. I will certainly plan to include students in curriculum development in the future."
Explore the University
Discover why Sheffield is the right choice for you at one of our open days or events.