The Department of Mechanical Engineering at The University of Sheffield has gained a strong international reputation for its research and teaching over the last century.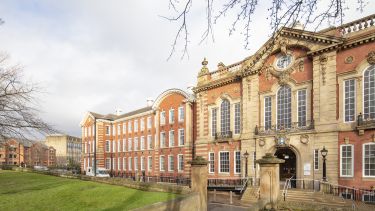 Off
Our department
Established in 1917, we are one of the UK's leading departments in the field - ranking amongst the UK's top five Mechanical Engineering departments for research excellence, and achieving consistently high student satisfaction.
We have a vibrant team here at Sheffield. With over 200 members of staff – including academics, researchers, technicians, support and professional colleagues – our community is home to academics holding EPSRC fellowships, Royal Academy of Engineering Chairs, and EPSRC Programme and Network Grants. Our work also involves strong links with industry.
The department's long-standing successes in research and teaching have led to significant infrastructure investments over the past decade.
In 2015, the University opened the Diamond building, an £81m investment that is home to extensive teaching laboratories for engineering students.
This year will also see the refurbishment of the department's original home, to become the new £50m Engineering Heartspace development, complete with state-of-the-art laboratories, workshops and postgraduate research space.
At a tremendously exciting time for the Department of Mechanical Engineering, both for our research and teaching, we are looking to welcome new colleagues to the team who will support our drive to continually grow and develop, providing cutting-edge research and teaching in the field of Mechanical Engineering.
---
Our Research
We have a rich and varied research community here at Sheffield.
Our vision is to apply the department's core strengths in mechanical engineering science into research that addresses key societal challenges, advances fundamental science, and achieves stakeholder impact.
Within the department, our research is organised into six themes: dynamics, fluid mechanics, solid mechanics, manufacturing, biomechanics, and energy. The breadth of our research creates many opportunities for collaboration and inspiration.
In dynamics we have recently commissioned the Laboratory for Verification and Validation, providing unique facilities for testing full-scale structures.
In solid mechanics, we have an extensive research agenda focusing on tribology and the friction of interfaces, as well as experimental stress analysis, modelling, and fatigue.
In fluid mechanics, we have exciting fundamental research on turbulence, computational methods, and optimisation.
In manufacturing, we are developing new capabilities for additive manufacturing of polymer, metallic, and functional materials, and have strong links to the University of Sheffield Advanced Manufacturing Research Centre.
Our biomechanics research is an exemplar of cross-disciplinary activity that is a key part of the Insigneo Institute for in silico Medicine.
Energy research is a key feature of the department's research and innovation portfolio. We also lead the UK Carbon Capture and Storage Research Centre, a national consortium that brings together world-class academics to provide a national focal point for CCUS research and development.
---
Our teaching
At Sheffield, we firmly believe that our research expertise should translate into research-led teaching that inspires future generations of mechanical engineers.
Our learning and teaching vision is to recruit high calibre students and inspire each one to become a self-motivated and adaptable learner. To achieve this, we provide our students with a challenging curriculum, preparing our graduates to contribute to the diversity of challenges present in global engineering and technology.
With a strong team spirit and collegiate approach, we create a positive and stimulating learning environment for our students, whilst simultaneously providing a rich and rewarding environment for our academic staff.
In 2018 we were successfully re-accredited by the Institution of Mechanical Engineers across all our programmes of study with exemplar feedback from assessors.
Building on this solid foundation we are now in an exciting process of curriculum review, looking to enhance the individual development of each student and equipping them to create value in rapidly-evolving industrial and/or research contexts.
To achieve this, we can draw on motivated and expert staff, a vibrant student environment and the significant infrastructure investments over the past decade, all possible as a result of our long-standing successes in research and teaching.
---
Collaboration and Industry
Collaboration is at the core of our research and teaching, and we are proud to work with a wide variety of industrial and academic partners.
The Department of Mechanical Engineering is a member of the Faculty of Engineering at The University of Sheffield, one of the biggest and best providers of engineering research and education in the UK.
The Faculty has over 5000 students and is among the top three faculties in the UK for research income (at approximately £40m annually).
There are many opportunities for collaboration between staff in the Department of Mechanical Engineering and colleagues in related departments, such as Civil and Structural Engineering, Materials Science and Engineering, and Aerospace Engineering.
We also actively encourage collaboration with industrial partners and other universities. For example, we lead the UK Acoustics Network, and the UK Carbon Capture and Storage Research Centre. We also collaborate in the EPSRC Future Manufacturing Hub in Manufacture using Advanced Powder Processes.
We work to make a positive impact for our partners through our collaborations, supporting them to increase production, reduce costs and drive innovation.
A global reputation
Sheffield is a research university with a global reputation for excellence. We're a member of the Russell Group: one of the 24 leading UK universities for research and teaching.