First Year students reach for the stars on Rocket Launch Day!
This year our First Years were challenged to work in small groups to create a water bottle rocket. The project involved understanding the engineering science behind the rocket flight, recognising the requirements for the rocket and relevant engineering assumptions, and then designing an aerodynamic rocket and manufacturing it using workshop facilities in the Diamond. 
Our whole Department celebrated the students' achievements on Launch Day, when 50 groups assembled at our Goodwin Sports Centre to launch their creations.  With maximum launch speeds in excess of 100mph, the rockets had to carry 3 different payloads - representing emergency medical supplies - travel a distance of 70m and hit a specific target spot.  The winning team achieved 100% success in all 3 of their rocket launches.
It was a great day and we congratulate all of our students on their achievements and look forward to welcoming them back in Autumn.
You can see more photos from the day on our Department Facebook page.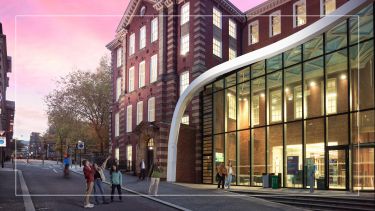 Visit us
Discover what sets Sheffield apart at our undergraduate open days on the Saturday 21 October or Saturday 18 November.