The Leonardo Tribology Centre, Where Dreams Come True…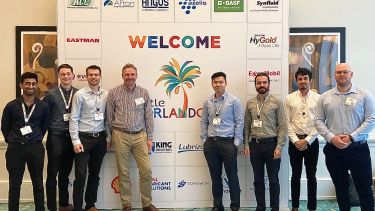 Kieran Nar, shares his experience at the 2022 STLE Annual Meeting, where he presented his first academic paper:
Recently, more than 1,350 individuals from 30 countries made the trip to Walt Disney World, not to meet Micky or Minnie Mouse, but instead to discuss all things Tribology and Lubrication.
The STLE Annual Meeting & Exhibition provides a unique experience for students, researchers, and industry representatives to get together once a year to share new ideas to develop the field further.
This year, number 76, eight members of the Leonardo Tribology Centre made the voyage over the pacific to present at the STLE Annual Meeting & Exhibition. Talks ranged from bayesian modelling to bio-lubricants to bearings for wind turbines. All were well received, prompting critique, conversation, and connections being made.
Highlights from the 5-day event included the President's Luncheon, where this year's STLE award recipients and top volunteers were recognised for their efforts. As well as the keynote presentation delivered by Nissan titled: 'Powertrain Evolution Toward Carbon Neutrality' and talk from NASA in which 'Lunar Dust Effects on Space Mechanisms' was discussed. Supplementary to the latter, we were fortunate to see Boeing and NASA's CST-100 Starliner spacecraft launch from Cape Canaveral less than 48 hours later!
A trip like this would have not been possible without the financial support provided by the Jost Foundation. Dr H Peter Jost CBE coined the term 'tribology' and remained pivotal in demonstrating the importance of this discipline within engineering throughout his long and successful career.
We look forward to packing our shorts again next year and attending the 2023 STLE Annual Meeting & Exhibition in Long Beach, California.