PhD Student receives award in recognition of research excellence in solar energy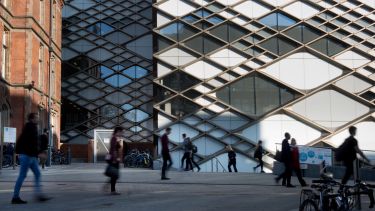 Mohammad bin Saleh Al-Obaid, who was awarded a scholarship to study in the UK by Majmaah University in Saudi Arabia, was presented with a letter of appreciation by the Saudi Arabia ambassador in the UK, Prince Mohammed bin Nawaf bin Abdulaziz in recognition of his research endeavours.
Mohammad, who is currently studying towards a PhD researching solar energy systems in buildings, has published a paper in an internationally renowned journal in renewable energy with impact factor: 10.093, as well as publishing in other reputable journals in the field of solar energy.
---
Receiving an excellence award from His Royal Highness Prince Mohammed bin Nawaf bin Abdulaziz makes me proud of my achievement. This award will motivate me in other challenges and push me forward in contributing to Saudi Vision 2030

Mohammad bin Saleh Al-Obaid

PhD student
---
Dr Al-Abdulkareem, Dean of Engineering College at Majmaah University, extended his thanks to Mr Al-Obaid for his outstanding efforts and said he should be seen as a role model to be emulated by others.
"I express my sincere thanks and appreciation to the ambassador of Saudi Arabia in the UK, Prince Mohammed bin Nawaf bin Abdulaziz, and his award based on excellence research outcomes in solar energy.
"However, it is not about individual achievement. I appreciate the support from my supervisor, Dr Ben Hughes, during my PhD journey to improve the performance of solar technologies for sustainable cooling systems integration.''
Saudi Vision 2030 is a plan to reduce Saudi Arabia's dependence on oil, diversify its economy, and develop public service sectors such as health, education, infrastructure, recreation and tourism.
Mohammad's PhD has been focused on how solar energy can be effectively harnessed to contribute towards this vision, helping to reduce consumption from the built environment.
Dr Ben Hughes, Mohammad's PhD supervisor and lecturer within the Department of Mechanical Engineering said:
"Mohammad has worked exceptionally hard adapting to life in the UK, including relocating from Saudi Arabia with his young family to undertake his research.
"He has published several papers since he joined us and submitted his PhD within the time limit, so I am delighted to see his endeavours recognised. He is a great example to our PhD students here in Sheffield that hard work and sacrifice reaps rewards."
Congratulations Mohammad!
A world top-100 university
We're a world top-100 university renowned for the excellence, impact and distinctiveness of our research-led learning and teaching.