RCAS team compete in the Railway Challenge Competition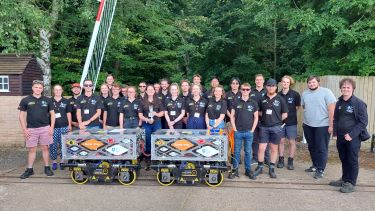 We're proud to share that our RCAS team finished in overall 4th place at this year's international competition, winning the Technical Poster challenge and taking second place in several other areas.  They were also highly commended for team spirit and attitude, having helped every other team there in some way.
The Railway Challenge Competition weekend takes place at the Stapleford Miniature Railway and see teams of student engineers compete in a series of challenges using the miniature locomotives which they have design and manufactured during the year.  It's a great weekend and the highlight of the RCAS year for our students.
This year our team suffered from an unfortunate electrical fire which resulted in the Electronics Team working tirelessly to build completely new hardware on site.  The Team learnt a lot from the events of the weekend and will now use these lessons to guide their design choices for next year's locomotive.
The Railway Challenge competition is the highlight of my year. It is the culmination of a lot of hard work from a multidisciplinary team of undergraduate engineers. This year we performed very well, coming second in multiple challenges and winning the Technical Poster Challenge. Participating in RCAS has allowed me to apply my degree to a real project and rapidly develop my confidence, teamwork and communication skills.

James Heginbottom

Mechanical System Assistant Team Leader
Congratulations to the team on all their hard work and success this year.  We look forward to seeing great things in 2023!
A world-class university – a unique student experience
Sheffield is a research university with a global reputation for excellence. We're a member of the Russell Group: one of the 24 leading UK universities for research and teaching.