When Science Meets Policy – a week in Westminster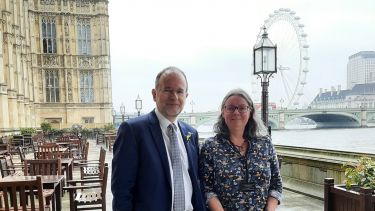 Along with 29 other scientists from a wide range of different research specialisms, Candice spent a few days in London learning about the ways in which scientists can engage with Government and other high-level policy-makers.
The Royal Society Pairing Scheme is intended to help researchers better understand the different ways in which their research findings and experience can help to inform policy, and how to most efficiently engage with these different mechanisms.  Events during the week included discussion sessions with policy-makers from organisations including The Royal Society, DEFRA and the Evaluation Task Force, running a mock Select Committee panel, and hearing from Shadow Minister for Science Research & Innovation Chi Onwurah about her thoughts on the UK Scientific landscape.
For Candice one of the big messages of the week was the ways in which science and policy interact and rely upon each other.  She comments that:
"One of the most interesting things we thought about whilst in London was the need for both 'Science for Policy' and 'Policy for Science'.  Policy-makers need to hear from us as experts in order to inform the decisions they make and the legislation they propose.  But by engaging with them in this way we also demonstrate the importance and significance of scientific research, hopefully ensuring continuing investment in this area!"
Another key part of the Week in Westminster was for participants to spend time shadowing an MP or Civil Servant.  Candice was paired with Sheffield MP Paul Blomfield, discussing his work as an MP, sitting in on some of his meetings, and hearing from one of his researchers about what goes on behind the scenes.  A follow up later in the year will involve a reciprocal visit when Paul can learn more about the work Candice and her team do here in Mechanical Engineering at Sheffield.
You can read more about Candice's week at Westminster in this blog post at The Science Talk.
A world top-100 university
We're a world top-100 university renowned for the excellence, impact and distinctiveness of our research-led learning and teaching.