Dr Hassan Ghadbeigi
BSc(hons), MSc(hons), PhD, FHEA
Department of Mechanical Engineering
Senior Lecturer in Mechanical Engineering
Operations Director, IDC in Machining Science
Study Abroad Tutor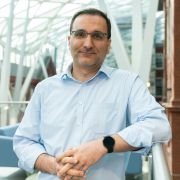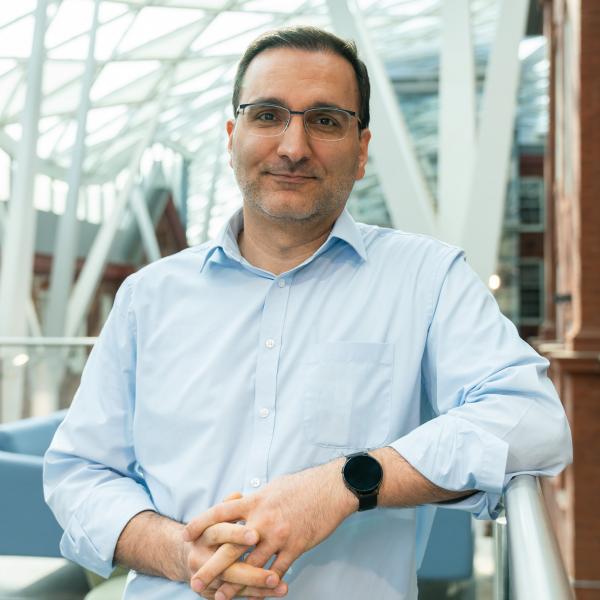 h.ghadbeigi@sheffield.ac.uk
+44 114 22 27748
D214, Central Wing, Sir Frederick Mappin Building
Full contact details
Dr Hassan Ghadbeigi
Department of Mechanical Engineering
D214, Central Wing
Sir Frederick Mappin Building
Mappin Street
Sheffield
S1 3JD

Profile

Dr Hassan Ghadbeigi has obtained his BSc in Manufacturing Engineering and MSc in Mechanical Engineering in Iran before joining The University of Sheffield in 2006.  He was awarded his PhD in Mechanical Engineering in 2010 from the University of Sheffield.

His thesis was on experimental investigation and numerical modelling of mechanics of cutting in metal machining operations.

While working on his PhD project, Dr Ghadbeigi was also a member of IMMPETUS as Research Assistant (2006-2010) and was involved in projects on modelling and characterisation of material deformation during thermo-mechanical processing.

He developed a new experimental methodology for quantification of local deformation and damage in Advanced High Strength Steels during his Post-Doctorate Research project in collaboration with Tata Steel Europe and M2i, the Netherlands (2010-2012). Dr Ghadbeigi has become a member of academic staff in 2013.  
Research interests

Dr Ghadbeigi's research interests cover a wide range of multidisciplinary topics on mechanics of materials deformation and damage in manufacturing processes such as machining and forming as well as manufacturing induced effects on the structural integrity and functional performance of produced parts.

Mechanics of machining and structural integrity are of his main research themes where Dr Ghadbeigi and his team develop experimental methods and numerical and analytical tools to predict chip formation in engineering materials and associated surface integrity based on the physics of deformation and failure.

Hassan has pioneered application of a range of experimental techniques, such as Digital Image correlation and microgrid techniques, to characterise local deformation and failure mechanisms in materials.

He has been involved in several project linked to manufacturing and machining science in collaboration Advanced Manufacturing Research Centre at the University of Sheffield.

The developed methodologies are already implemented for production of aerospace and automotive components and materials; however, these could be applicable wherein materials experience any mode of deformation as part of their processing history.

 Current research activities 

Damage and fracture of spot welds in automotive steels
Local damage and deformation analysis of multiphase high strength automotive steels (Dual phase, TRIP and Complex phase)
Modelling of blanking induced defects on magnetic performance of electrical steels
Finite element modelling of drilling in metallic materials
Distortion analysis and control in hybrid manufacturing
Microstructural sensitive model for deformation of Ti-6Al-4V alloys
Machining Induced White Layers: Quantitative Characterization, Non-destructive detection and Finite Element simulation
Modelling and characterisation of mechanics of deformation during chip formation
Publications

Journal articles

Chapters

Conference proceedings papers

Preprints
Grants

INNOVATE UK (TSB), Knowledge Transfer Partnership, Finish machining of TSP coating, 2019- 2022, £181,712(PI)
INNOVATE UK (TSB), Knowledge Transfer Partnership, Design of a Flexible Modular Clamping System, 2019 - 2021, £184,953(PI)
EU – H2020, Research and Innovation Staff Exchange (RISE), Fracture across Scales and Materials, Processes and Disciplines (FRAMED), 2017-2021, £142k (CI)
INNOVATE UK (TSB), Knowledge Transfer Partnership, Rapid Metal Cutting Simulation, 2017-2018, £29,620 (PI)
Teaching interests

Dr Ghadbeigi has taught second year (MEC 202, GEE 207) and fourth year (MEC 455) modules for Mechanical Engineering and General Engineering students.

The second-year courses, Mechanics of Deformable solids and Mechanics of Structure, are about analysis of elastic deformation and interaction of solid elements and structures using analytical methods.

The fourth-year course is a specialized course on Advanced conventional manufacturing technologies, including Machining and Forming, where mechanics of deformation and manufacturing induced defects are studied.
Professional activities and memberships

Co-Director of Industrial Doctorate Centre in Machining Science
Member of National Committee, British Society for Strain Measurement