Professor Hui Long
BEng, MSc, PhD, CEng, FIMechE, SFHEA.
Department of Mechanical Engineering
Professor of Mechanics of Materials
Departmental Director of Research and Innovation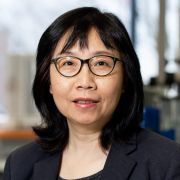 h.long@sheffield.ac.uk
+44 114 222 7759
Sir Frederick Mappin Building
Full contact details
Professor Hui Long
Department of Mechanical Engineering
Sir Frederick Mappin Building
Mappin Street
Sheffield
S1 3JD

Profile

Hui Long is Professor of Mechanics of Materials in the Department of Mechanical Engineering. She joined the Department as Reader in 2012. Prior to this, she worked as a Senior Lecturer and Lecturer in the School of Engineering, Durham University from 2003 to 2012.

Professor Hui Long received her BEng, MSc and PhD degrees in Mechanical Engineering from Chongqing University in China.

She then worked as a Lecturer and an Associate Professor in the State Key Laboratory of Mechanical Transmissions in the same University for nine years. From 1996 to 2003, she worked as a research associate and research fellow in the University of Strathclyde, Swansea University and Brunel University London.

Professor Hui Long is a member of the Leonardo Tribology Centre and the Structural Integrity Research Team.
Research interests

Professor Hui Long specialises in mechanics of materials, plasticity, contact mechanics and engineering failures. Her research group's current activities centre on two broad fields in wind energy and manufacturing technology.

In wind energy, the current research areas include:

Wind turbine blade pitching bearing failures due to false Brinelling and fretting corrosion
Wind turbine gearbox bearing premature failures due to white etching cracking
Wind turbine drivetrain system dynamic load modelling under transient loading
Failure analysis and prediction using SCADA (Supervisory Control & Data Acquisition) data

In manufacturing, the research activities centre on flexible metal forming technologies:

Metal spinning process development and optimisation for material processing failure prevention
Incremental sheet forming process development for improved formability and precision
Non-linear finite element analysis and damage modelling of metal forming processes
Publications

Journal articles

Chapters

Conference proceedings papers
Grants

New Tooling for Incremental Sheet Forming, EPSRC, 2019-2021, Principal Investigator.
Offshore Wind Powertrain Research Hub, UK Offshore Renewable Energy Catapult, 2019-2024, Co-I, with PI Professor D Stone and Co-Is Professor ZQ Zhu and Professor RS Dwyer-Joyce.
Novel Flexible Sheet Forming for High Value Manufacturing (FLEXFORM). EU FP7 Marie Curie, 2014-2016, Principal Investigator, with Marie Curie Research Fellow Dr B Lu.
New Material Processing Technologies for Sustainable Future (MatProFuture). EU Marie Curies IRSES, 2013-2017, Principal Investigator, with Co-Is Professor R Dwyer-Joyce and Dr C Pinna.
Wind Turbine Gearbox Bearing Failure Analysis. Industrial Funded, 2012-2015, Principal Investigator.
Sensing Oil Film, Load and Damage in Wind Turbine Bearings. DECC & TSB, 2013-2015, Co-I, with PI Professor R Dwyer-Joyce and Co-I Dr M Marshall.
Advanced Design Methodologies for Wind Turbine Gearboxes - Visiting Fellowship of Chongqing University. Ministry of Education, China, 2010-2013, Principal Investigator.
Implementation and Demonstration of SCADA-based Wind Turbine Monitoring to Improve Reliability. EPSRC Impact, 2011-2012, Principal Investigator.
Future Reliable Renewable Energy Conversion Systems and Networks. EPSRC, 2009-2012, Co-I.
Lightweight Offshore Wind Turbine Gearbox Feasibility Study. Northern Wind Innovation Project, 2010-2011, Principal Investigator.
Wind Turbine Gearbox Stochastic Loading Prediction for Failure Detection and Prevention. One NorthEast, 2011, Principal Investigator.
Design Innovation for Multidisciplinary Engineering Applications. The Royal Academy of Engineering, 2010-2012, Principal Investigator.
Reliability Focused Research on Optimising Wind Energy Systems Design, Operation and Maintenance. EU FP7 Collaborative, 2008-2011, Co-I.
Effective Experimentation and Simulation Techniques for Metal Spinning. TSB KTP, 2008-2010, Principal Investigator.
Teaching activities

MEC316: Renewable Energy (Module Leader)
MEC312: Advanced Mechanics of Solids (Module Leader)
MEC455 & 6455: Mechanics and Applications of Advanced Manufacturing Technologies
Professional activities

Fellow of the Institution of Mechanical Engineers
Senior Fellow of Higher Education Academy
Associate Editor of IMechE Part B: Journal of Engineering Manufacture
EPSRC Peer Review College Member
EU Research Proposal Expert Reviewer