Professor Ning Qin
Department of Mechanical Engineering
Professor of Aerodynamics
Academic Team Leader, Aerodynamics and Fluid Mechanics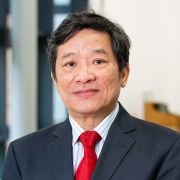 n.qin@sheffield.ac.uk
+44 114 222 7718
Sir Frederick Mappin Building
Full contact details
Professor Ning Qin
Department of Mechanical Engineering
Sir Frederick Mappin Building
Mappin Street
Sheffield
S1 3JD

Profile

Professor Ning Qin obtained his BSc (Mathematics) in 1982 and MEng (Aerodynamics) in 1984 from Nanjing University of Aeronautics and Astronautics, China. He later went on to obtain his PhD (Aerospace Engineering) in 1987 from the University of Glasgow, Scotland, UK.

Ning Qin started his career working as a Post-Doctoral Research Fellow and Senior Research Fellow at Glasgow after his PhD under Professor Bryan Richards.

He conducted research in the areas of predicting hypersonic heating for spaceplane in the British Horizontal Take-off and Landing HOTOL programme; investigating Navier-Stokes solution methods for high speed flows; developing Newton-like implicit and matrix-free methods for CFD and parallel computing on the i860 Hypercube parallel computing system.

He moved to Cranfield University College of Aeronautics in 1994 to take up a lectureship and was appointed to the Chair of Computational Aerodynamics in 1999.

At Cranfield, he established the Centre for Computational Aerodynamics, with a wide range of funded research activities oriented at improving flow prediction capabilities in the aerospace design process.

In 2003, he took up the Chair of Aerodynamics at the University of Sheffield, heading the Thermo-Fluids Group until 2013. Professor Qin is a Fellow of the Royal Aeronautical Society and an Associate Fellow of the American Institute of Aeronautics and Astronautics.

He was awarded the RAeS Hafner Prize on VTOL(Vertical Take-Off and Landing) Technology in 2000. He serves as an Associate Editor for IMechE Journal of Aerospace Engineering, RAeS Aeronautical Journal, Advances in Applied Mathematics and Mechanics, and Chinese Journal of Aeronautics.
Research interests

He has been involved in a range of research and consultancy activities for Aerodynamics and Computational Fluid Dynamics research and applications with over 300 journal and conference publications. His recent research interests include:

flow control for aircraft drag reduction and wind turbine performance
transonic shock control and flutter boundary prediction for wings and gas turbine blades
aerodynamic and multi-disciplinary design optimization
aerodynamics of novel future configurations including blended wing body aircraft
hypersonic aerothermodynamic heating and interactions
adjoint based aerodynamic shape optimisation
numerical method development for turbulence simulation and moving adaptive mesh

He has obtained research funding from research councils and industries including EPSRC, Leverhulme Trust, European Commission, DERA (QinetiQ), BAE Systems, Westland Helicopters Ltd, Airbus, Rolls-Royce, DSTL, and Aircraft Research Association Ltd.

He was the Aerodynamic Task Leader in the European FP research project MOB (Multidisciplinary Design Optimisation of Blended Wing Body Aircraft) and the Technical Coordinator for EU project MARS (Flow Control for Drag Reduction). The impact of his research to aerospace industry has been detailed in the impact study cases of UK Research Excellence Framework REF2014.
Publications

Books

Journal articles

Chapters

Conference proceedings papers

Patents

Theses / Dissertations

Datasets
Grants

EUROPEAN COMMISSION - HORIZON 2018-2021, MADELEINE, £371,308  

ROLLS-ROYCE PLC (UK) 2019-2020, Design Guidelines for Low Noise Outlet Guide Vanes, £150,702

AIRBUS UK LIMITED 2019-2021, Aerodynamic optimisation for industrial implications, £7,886  

ROLLS-ROYCE PLC (UK), 2019, Adjoint driven mesh sensitivity study for mesh adaption and quality control - extension, £30,000

EUROPEAN COMMISSION - HORIZON 2017-2019, DRAGY, £134,058

ROLLS-ROYCE PLC (UK) 2019, Composite Fan Tip Rubbing Investigation, £10,000

FIRST 4 WIND TURBINES LIMITED 2018, First 4 Wind Turbines, £25,371
ROLLS-ROYCE PLC (UK) 2017-2019, Adjoint driven mesh sensitivity study for mesh adaption and quality control, £100,698

EUROPEAN COMMISSION - FP6/FP7, GReener Aeronautics International Networking-2 (GRAIN-2), £14,659

EUROPEAN COMMISSION - FP6/FP7, MARS, £197,366
Teaching activities

MEC316 Renewable Energy: wind turbine aerodynamics

MEC449 Advanced Fluid Dynamics: compressible flows