NEW DATE - Seminar: 'Displacement and access to education'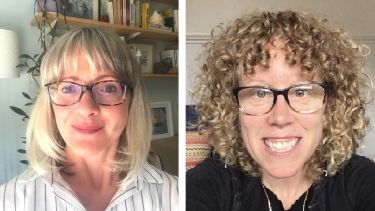 ---
Description
Title: Displacement and access to education: connecting and co-producing knowledge across the UK and Canada
Rebecca Murray, University of Sheffield (UK)
Tanya Aberman, York University (Canada)
Abstract: During this event Tanya Aberman and Rebecca Murray will engage in conversation about the parallel work they have undertaken to date, as campaigners, practitioners and academics in Canada and the UK. The core objective underpinning their work (pursued independently of each other) has been the creation and implementation of sustainable opportunities in higher education, for young people who hold insecure immigration status resulting from forced displacement (Murray, 2022; Murray, 2021; Villegas & Aberman, 2019). This conversation marks the start of a 12-month project to exchange knowledge and practice, create new connections and opportunities to co-produce knowledge with their respective community partners, young people experiencing displacement and institutions.
In 2012, the United Nations High Commissioner for Refugees (UNHCR) introduced higher education as a global strategic priority. An estimated 5% of the global refugee population study in higher education, significantly lower participation than in primary (64%) or secondary (24%) education (UNHCR, 2022). The unequal participation of refugees is currently being addressed by UNHCR's '15by30' strategy: its overarching aim is to increase refugee participation in higher education to 15% by 2030 (UNHCR, 2019). The '15by30' programme is a direct move to implement international policy that now extends to higher education, for example, 2030 Sustainable Development goals (specifically SDG4 Quality Education) and the Global Compact for Refugees. Demand for access to opportunities in higher education has been informed by displaced young people internationally, including in the UK and Canada where initiatives delivered at the local (university) level have been shaped by young people who are experts by experience and practice.
The starting point for this collaboration is an exploration of key context pertaining to access to higher education and displacement at the local level, before exploring connections or contradictions between local grassroots activity in the UK and Canada and the emerging global agenda. While there are many commonalities between these two contexts, including historic and continuous colonial ties, there are also significant differences produced by local politics and competing discourses. We will discuss an evolving theoretical framework in which to situate this project (and us), drawing upon theories of decolonisation (Amadahy & Lawrence, 2009; Bhambra, 2007), as well as scholarship on 'sanctuary' (Bagelman, 2013; Paik, 2020; Squire & Darling, 2013), participation, and knowledge production (Haile et al, 2020). We would welcome feedback and critical reflections from colleagues, as we develop and shape these ideas to progress our collaboration.
Rebecca Murray is a Lecturer in Sociological Studies teaching across Sociology and Social Work. She is a member of the Sanctuary advisory group and the Migration Research Group at the University of Sheffield. Rebecca sits on the national University of Sanctuary steering committee, following the merger of the Article 26 project, which she founded and directed. Rebecca's extensive practice and research in relation to bordering and post compulsory education developed from young migrant-led grassroots campaigning and advocacy initiatives. Rebecca's current project '(Re)imagining the Higher Education Border', seeks to quantify the higher education border and facilitate a '(re)imagining of its scale and impact in participation with young migrants.
Tanya Aberman (she/her) holds a PhD in Gender Feminist and Women's Studies from York University. Her research has focused on migration issues from feminist, intersectional, critical migration and border studies perspectives. She also specializes in the area of access to education, having developed, coordinated and taught community and university-based education programs for newcomer and migrant students. She has co-authored several pieces on the bordering of higher education and the need for increased access. Tanya is also one of the founders of the Sanctuary Students Solidarity and Support (S4) Collective, a member-led organization that strives to support migrant students with accessing and succeeding in secondary and post-secondary education and works with institutions to increase equitable access for these students.
Events at the University
Browse upcoming public lectures, exhibitions, family events, concerts, shows and festivals across the University.