Global young people come together through art to build inclusive futures in South Yorkshire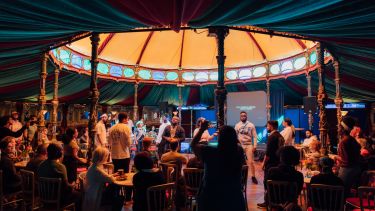 Thea Shahrokh (Sociological Studies, University of Sheffield)
Through an arts-based initiative in South Yorkshire, MIMY researchers at the University of Sheffield collaborated with young people and artists Stand & Be Counted Theatre, Sean Lovell and Asma Kabadeh, to create an inclusive space of knowledge production and social action. The initiative - 'Young People Together' - took place over 12 weeks, with the aim of supporting the power of marginalised young asylum seekers, refugees and migrants, alongside young people in the local population, to be agents of change in their lives and communities. From here, young people are collaborating with researchers, artists, migrant support and youth sector organisations to influence local and regional strategic work towards the inclusion of migrant youth, and the integration of young people in their communities.
'What the world needs more of' explorations in Sheffield
In Sheffield, 32 young people worked together to build knowledge and understanding about the world they want, and the change that needs to happen to transform the social issues affecting their lives. Read more about the power of the process in this blog by youth poet and facilitator Diyo M Bopengo. At the University of Sheffield-led Festival of the Mind, these young change-makers shared a live performance that they had created, and which centred their  vision for 'what the world needs more of'. Through poetry, song, dance, theatre and visual arts, they advocated for "change", "more understanding and acceptance of diversity", "selfless leaders", "no borders", "less conflict", "more hope (and pizza!)", and "more collective action to drive change".
The youth-led performance was followed by a screening of a documentary film capturing the arts-based action research process. The film highlighted the power of young people sharing their experiences, and the implications of their insights for what support they need to build their lives in Sheffield. The event ended with a Q&A with the audience, which addressed among other issues, the importance of more inclusive spaces for young people and young migrants.
'Becoming Us' in Barnsley
Following a parallel process in Barnsley, an interactive exhibition called 'Becoming Us' was created by 16 young people. Becoming Us invites a public audience to see the world through the eyes of young people building their lives in Barnsley, in their words - no-one else's. The exhibition was made by a group of young people with migration experiences, young people in the wider local population, and the MIMY researchers and artist facilitators. The young people involved explored what it means to build community, how their passions connect them to their wider communities, and what they want to say about the world.
The physical exhibition is made up of poster boards, six of which are portraits of the exhibition's youth artists, each with a QR code that takes you to a digital exhibition webpage sharing the artwork and messages that they created. The exhibition was launched at an event at The Civic arts and cultural centre, where young people were able to invite audiences that they wanted to share their vision for change with. This included friends and family and volunteers and staff from the organisations that support them. A further community-based event is planned to share the exhibition and an accompanying documentary film. We hope this will be another opportunity to expand the conversation about diversity and inclusion for young people, and share the knowledge created more widely.
Photo credits: Smart Banda, Stand & Be Counted Theatre.
What next?
This exciting programme of work in South Yorkshire shows the value of complementarity in research, knowledge exchange and impact funding. Young People Together was possible as a result of of MIMY project funding from the European Union's Horizon 2020 research and innovation programme under grant agreement No 870700, combined with impact and knowledge exchange resource accessed through the University of Sheffield's ESRC Impact Acceleration Account, the University regional partnership team's Made Together Programme, and Festival of the Mind.
Next, we MIMY researchers will be implementing a programme of community based events sharing the exhibition and documentary film outlining the lessons young people learned from the arts-based initiative. We hope this will expand the conversation about diversity and inclusion for young people, and share the knowledge created more widely. From November to January we are also hosting a set of workshops with multi-level stakeholders to gain feedback on youth-led research findings and to generate ideas on local actions and recommendations for enhancing migrant youth integration in Sheffield and Barnsley. Get in touch to be involved in any of this work or to find out more.
Events at the University
Browse upcoming public lectures, exhibitions, family events, concerts, shows and festivals across the University.