MIGREC project study visit in Sheffield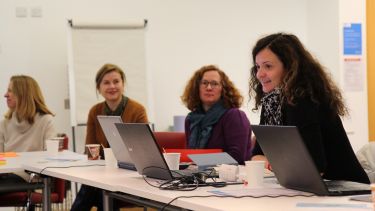 Between 5 and 9 December 2022, a group of academics from the University of Belgrade visited the University of Sheffield. They collaborate with MRG members – Prof. Majella Kilkey, Dr Aneta Piekut, Dr Ryan Powell and Beth Porter – on MIGREC project. This is a H2020 knowledge exchange project aiming to create a 'Migration, Integration and Governance Research Center' at the University of Belgrade.
MRG networking day
On Monday 5th of December, Sheffield held a networking event between MRG members and MIGREC project team. Over 20 MRG members took part in the day. Professor Jenny Phillimore (University of Birmingham) was invited to give a keynote lecture on 'Integration: From Assimilation to Relations and Beyond'. The talk summarised the most recent critiques of the term integration and discussed how it still can be studied to be a useful cognitive tool.
Activities with MIGREC team 

| Rotherham visit with 'Life at the Frontier' team | FURD visit with MYMY researchers |
| --- | --- |
| | |
On Tuesday 6th of December, MIGREC colleagues participated in a neighbourhood walk in Rotherham with 'Life at the Frontier' project team. Local experts and project collaborators – Dr Zanib Rasool and Olga Fuseini – shared their vast experience on working with the community. The day finished with a presentation of project preliminary results at the Rotherham United Community Sport Trust (RUCST).
Sheffield's Football Unites, Racism Divides (FURD) invited Serbian colleagues and MIMY researchers on Wednesday 7th of December, where they find out about FURD origins, development and uniqueness. The group watched together a documentary film based on project's MIMY arts-based process.
The two remaining days were for individual networking and library visits. We would like to thank all MRG members who helped us to welcome MIGREC colleagues from Belgrade, and RUCST, Liberty Church in Rotherham and Sheffield's FURD for their hospitality.
Flagship institutes
The University's four flagship institutes bring together our key strengths to tackle global issues, turning interdisciplinary and translational research into real-world solutions.