MIGREC Summer School on Data Analysis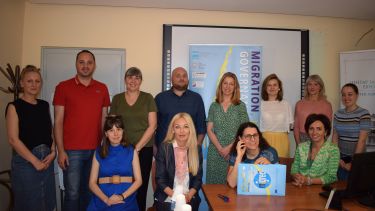 Summer School within H2020 MIGREC Project - 31st May - 1st June2022
MRG members collaborating within the MIGREC project co-organised Summer School with colleagues at the University of Belgrade. The focus of the school was to master skills in working with existing data, as well as reflect on own research practice and lessons learnt over various projects. Senior and junior researchers as well as PhD candidates from the University of Belgrade – Faculty of Political Science and Faculty of Geography attended the School.
The programme of the school had two parallel sessions. One was focused on working with quantitative data and run by Aneta Piekut (MRG, Sheffield Methods Institute) and Ben Gardner (CDT Data Analytics). The sessions on 'Demystifying qualitative data analysis' were delivered by Majella Kilkey (MRG, Sociological Studies), Rebecca Murray (MRG, Sociological Studies) and Will Haynes (Geography).
MIGREC is a research capacity building project in the field of migration studies at the Faculty of Political Science (FPN) of the University of Belgrade, which commenced October 2019. The outcome of the project will be the creation of a Migration, Integration and Governance Research Centre (MIGREC), which will ensure the sustainability of Migration Studies at FPN through training, coordination and mentoring of staff and students, as well as, through the creation of a Research Strategy and Agenda and a Doctoral Studies Program.
Another Summer School run by MRG members at the University of Belgrade is planned in September 2022.